Don't make fun of our problems (Letter to Prime Minister)
January 19, 2016 | 10:31 am&nbsp&nbsp&nbsp&nbsp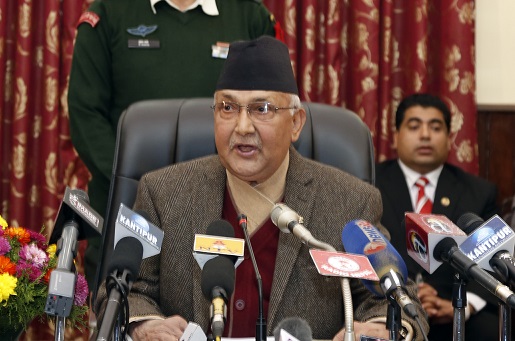 Dear Prime Minister,
I am writing this second letter following your recent announcement about ending load shedding within a year and also fitting gas pipeline in Kathmandu valley. Most of the people made mockery of your statement and you also expressed concern over the people's comment on social media – it seems you are just talking without doing anything.
Dear Prime Minister, I would like to remind you that the whole country celebrated your victory for the post of Prime Minister and people did not complain about their hardships with the hope that you will take a stand on the issue of nationality and take some immediate actions towards resolving the problems the country is facing. However, in a sad note, Nepali people just got your words, not any action. Dear Prime Minister, you are right that a Prime Minister should show dreams to the people but there should be some basis for your statements and your words should be credible.
I agree that you became Prime Minister at a very critical period and you got full support from the public. For example, the youths who used to hit the streets if there is a minimum rise in the prices of petroleum products did not do so; rather they purchased petroleum products paying three times the price in the black market. People accepted all your actions with the hope that you will stand by national interests and solve the problems faced by the Nepali people. But unfortunately, you and all members of your cabinet are involved in making fun of the problems faced by Nepali people rather than solving it. Nepali people did not expect that you have a magic stick to solve all the problems overnight but you have spent considerable amount of time without doing any tangible work other than giving speeches. The Nepali people wanted more action than words but you did the opposite.
Black marketeering is rampant in the country and people do not see presence of government in any form or place. For example, when I arrived in Kathmandu from out of valley two weeks back, the taxi driver asked me four times higher price than the normal rate saying he had to buy petrol in the black market. He was asking me 1,200 rupees to travel six kilometers which is usually around 200 to 250 rupees. When I complained, one Traffic Police asked me to pay the higher price instead of telling the taxi driver to charge the normal rate. This is just one example of rampant black marketeering that exists in every sector, implying and showing the state mechanism is almost defunct.
Dear Prime Minister, I am a big fan of your jokes and sense of humor, but when the country is burning, your jokes and sense of humor is only putting salt in the wounds of the Nepali people. People were expecting that you will smooth the supply of petroleum products even by importing fuel from China, but it has all ended as tea talk. Your cabinet has not been able to take action against Chief of Nepal Oil Corporation, who was involved in smuggling petroleum products and not supporting to import fuel from China. If your cabinet members are not capable of taking simple action against any bureaucrat involved in wrongdoings, what can the people expect from them and you? When you formed the government, all your deputies and ministers seemed very aggressive and it looked like they would do something positive very soon, but as time has passed, they are just limited to their ministries and attending programs.
Dear Prime Minister, yes it may be feasible to supply gas through pipelines and also produce more power to meet the power needs of the country, but you should present it with a clear roadmap, not just like a political speech. Three months have already passed since you made the speech of making Nepal load shedding free within a year, but are you satisfied with the progress made in regard to power production and expansion of transmission lines? When the government has simply failed to import ready-made petroleum products from China, why would the people believe that the government can do anything to end load shedding and supply gas from pipeline? Dear Prime Minister, it is very unfortunate that we Nepali people are compelled to accept people like you as the Prime Minister and politician; a person who does not have any vision and statesmanship, so, please don't make mockery of our compulsion.
Dear Prime Minister, do not show us dreams. All that you are doing is leading a lavish life from the taxes we pay from our very hard earned money. You have been taking advantage of our compulsion and leading us towards a failed state. I would like to humbly request you to spend your days in office and enjoy the perks from our hard work and money rather than making useless speeches. As it is rightly said that morning shows the day, your three month long tenure has shown that it will be nothing except adding one Prime Minister and giving you lifetime facilities, which is the ultimate goal of most of the power monger politicians of our country. Your party, which is second largest party of the country, failed to neither investigate nor take any action against any leaders who have taken huge amount of money from a business house for appointing a female as a member of the constituent assembly. Don't you think you should take any moral responsibility as the chair of the party in the incident?
I read the news of Nepal Rastra Bank making decision to provide subsidies to the industries affected by the earthquake but I could not celebrate the news as one of my uncles lost his property deposited as collateral in the bank after his son lost his job due to earthquake and blockade and could not pay back the money he had taken as loan from the bank while he became ill last year. So where are the policies and subsidies to look after an individual?
Dear Prime Minister, I hope your advisors are briefing you on where our country is heading and how much problems the people are facing. To speak frankly, people in the remote areas have not been able to feel your presence as all your decisions are directed towards supporting the rich people. You may have made this decision to please them as you need money from them in the next election. My 85 year old grandfather became happy when you got elected Prime Minister as he believed that you are a man of words but these days he switches the television channel when you appear in it with the fear that you again make fun of the problems faced by people. Dear Prime Minister, you are trying to win the confidence of the Indian government to prolong your tenure in the top post of the country as you have reached the climax of your political career, but please think about how history will judge you. Can you honestly think and tell the people what you have done for the country by becoming a politician, minister and prime minister except some jokes and looting the country in the veil of politicians.
Dear Prime Minister, I apologize for my harsh words as I am aware that we should have respect towards our head of the state. It is unfortunate that you deserve such words as you have been ruining the country and making people's lives worse than what it was when you ascended to power.
Please follow the link to read first letter to Prime Minister http://nepalekhabar.com/2015/11/60465
Sincerely Yours
A Nepali Citizen
(Editor's note: How do you find this letter please send your comment to editor@nepalekhabar.com. Please send your opinion/thoughts to us, we will provide suitable space for it.)