'Music is my only source of happiness'
January 23, 2016 | 12:52 pm&nbsp&nbsp&nbsp&nbsp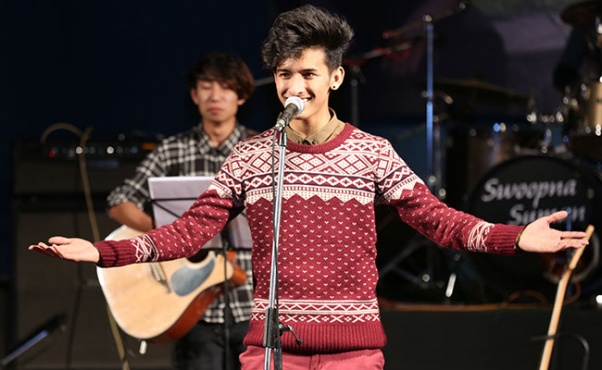 Kathmandu / January 23: Twenty-year-old Swoopna Suman uploaded his cover of Rohit John Chhetri's super hit song 'Bistarai Bistarai' on YouTube in August, 2014. Today, he has nearly 800,000 total views on his YouTube channel and over 7,300 subscribers. "The numbers are nothing compared to the amount of love I've received from my viewers and listeners. While it's their appreciation for my work that actually counts, ironically it's something that can't be counted," he says.
In a recent tête-à-tête with Poonam Maharjan, the young crooner shared why he chose 'Swoopna Suman' as his name, how music makes him happy, why he doesn't want to sing for international record labels, and many things in between. He writes and composes his own songs, and has released three original singles to this day.
Excerpts
How did you get into music?
Music has always been very dear to me. I used to sing from a really young age and regularly performed at school functions. My family has been extremely supportive, too. When I was in Class IV, I went to India as part of a play, but ended up singing bhajans on stage. That was an enriching experience. I soon realized that music is the only dream I wanted to chase, so I added 'Swoopna' (meaning 'dream' in Sanskrit) before my name when I was in Class IX. My actual name is Suman Thapa.
Do have any formal training in music?
Internet is my one and only guru. Whatever I've learnt about music, it's all thanks to the World Wide Web. I continue to learn by watching my favorite artists perform and reading about the songs they've written and composed.
The quality of your videos is really good. Are they professionally done?
Karma Records produce all my songs and videos—even the covers. They work really hard and also make me work hard to come up with a quality product. Karma Records has been giving good platform for raw, budding talents, and after giving them an audition, they decided to work with me.
What are the challenges of being a YouTuber in Nepal?
Load shedding and unreliable Internet service make uploading videos a painful experience. Other than that, I've realized that media support is a must. However, since now we have tailored homepage for Nepal, I believe it will help Nepali YouTubers to promote their content.
That you have a good fan following was obvious from your first solo concert in Nepal Academy Hall last December. How do you feel?
I feel so blessed is all I can say. I used to be a shy, introverted person, and it took me a long time to get out of my cocoon. Until not very long ago, I used to dream of performing to a houseful of audience singing along with me and their lit up mobile phone screens creating a light show—just like it happens in the concerts of established artistes. I realized that dream in my very first concert. The energy in that hall was surreal. It continues to inspire me.
Has your life changed in anyway?
Yes, in all good ways. I get recognized on the streets, and strangers request me for selfies and hugs. My friends look up to me, and my family is super proud of me. All this is so humbling.
We heard you got offers and calls for auditions from international record labels, too. Any good news?
The good news is, I'm going nowhere but doing only Nepali music. I love it here. It was unbelievable to get offers from record labels in the UK, Australia, India, and even Romania, and to be honest, it was tempting. But I decided that if I can't sing in my mother tongue and need to be so far away from the people who have given me so much, why should I? Also that's when I stopped doing English covers.
What are your future plans?
Music is my only source of happiness. I don't care if I can't sustain a living by doing music alone, because not everyone who has money is happy. My first album will be out in the market by April, and I'm really excited about it. (Source: Myrepublica)