Dr Upreti's life chronicles in 'Jiwan Ek Sapana'
January 23, 2016 | 12:59 pm&nbsp&nbsp&nbsp&nbsp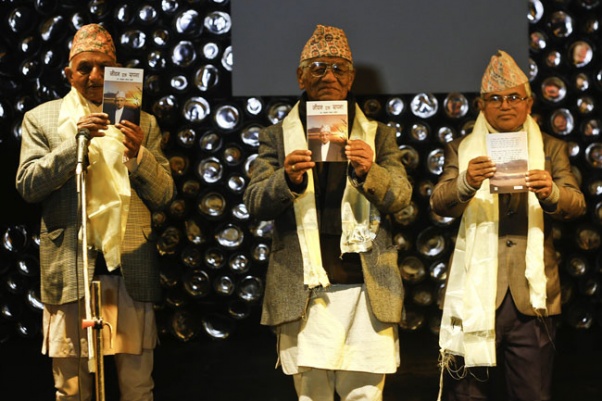 Kathmandu, Jan 22: Dr Shankar Prasad Upreti's autobiography 'Jiwan Ek Sapana' was launched amidst litterateurs, friends and family at Theatre Village in Lazimpat on Thursday. In the memoir, Dr Upreti recalls his life from the age of nine to the present times.
Senior litterateur Bairagi Kaila lit the lamp and launched the book along with Dr Upreti and Madan Puraskar laureate Krishna Dharabasi.
Appreciating the book, Bairagi Kaila said, "I liked that he has included the small and simple moments from his life in the book. It's also interesting that he has written about the moments when he lied and stole as a young boy. The readers will enjoy the book being filled with stories of humanity. I feel this memoir contributes to Nepali literature."
Writer Dharabasi gave a brief account of Dr Upreti's life. He spoke about how Dr Upreti devoted more than 40 years of his life to social service, working in eastern Nepal, at a time when doctors were scarce even in Kathmandu.
The book is priced at Rs 365. Proceeds from the book will go to charity. (Source: Myrepublica)