Quake-hit Chepang and cold wave affected poor people get warm clothes
January 29, 2016 | 9:53 am&nbsp&nbsp&nbsp&nbsp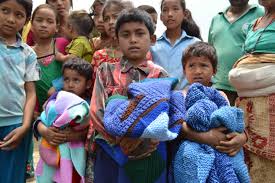 Gorkha / January 29: The earthquake survivors of Chepang community in Gorkha district have been provided with warm clothes on Thursday.
The Good Service Neighbour Association, Pokhara, distributed the warm clothes to 250 households of Makaisinght, 166 of Tanglichowk, 100 of Gyalchowk and 225 of Bhumlichowk VDCs of Chepang community with coordination of the District Natural Disaster Rescue Committee.
Programme Coordinator of the Association, Bijay Shrestha said that each household was given two pieces of blanket, three caps, two shawls and a jacket.
The members of the Chepang community are living in the huts as the Gorkha Earthquake destroyed their houses built by the government under the Human Settlement Programme'. RSS
Meanwhile, a Kaski-based social organisation has distributed warm clothes to the poor people in Rautahat district on Thursday.
Women's Campaign for Social Awareness of Pokhara provided quilts and other warm clothes to as high as 150 people of Dum and Dhangar communities in Gaur, the district headquarters of Rautahat.
It is said that 50 persons from the Dum community in Gaur Municipality-7 and 100 people from the Dhangartol were provided with the clothes to help them escape the cold.
Coordinator of the Campaign, Sushma Poudel, said that the event to distribute warm clothes was organised aiming to transfer the country's existing social discrimination into goodwill as well as support the cold-wave affected poor people. RSS