Literature Festival underway in Pokhara
January 29, 2016 | 9:46 pm&nbsp&nbsp&nbsp&nbsp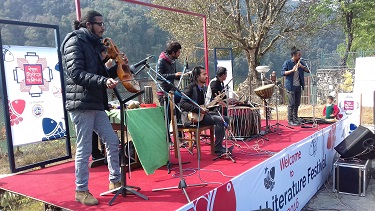 Pokhara / January 29: The fifth edition of the Nepal Literature Festival kicked off on Friday at the premises of the Nepal Tourism Board Office here.
The festival organized jointly by Bookworm Foundation and Random Readers Society was inaugurated by litterateur Lt Col JP Cross, a British-born Nepali citizen, who said the festival would contribute more in bringing into relief the art and culture of the country.
During the opening ceremony, litterateur Tirtha Shrestha said the festival held by the fringes of the renowned Fewa Lake would help boost tourism in the city.
Foundation's Director Ajit Baral said the festival which started in 2012 arrived in Pokhara from Kathmandu to enhance its beauty culturally for the first time.
On the occasion, a book 'Samridha Nepal' penned by Legislature-Parliament Development Committee Chairman Rabindra Adhikari was launched in which the author has delved into his experiences from school life to working in Accounts Committee and Development Committee under the Parliament.
New Force Coordinator and former Prime Minister Dr Baburam Bhattarai stressed on the need for a leadership that can merge with the people for Nepal's prosperity and development. RSS