'Polar Picasso' paints with his paws at bear sanctuary
January 30, 2016 | 12:15 pm&nbsp&nbsp&nbsp&nbsp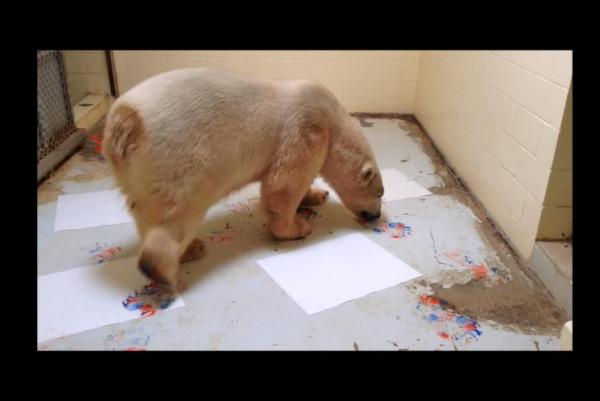 Ontario / January 29: An Ontario sanctuary is raising funds by selling artwork created by one of its residents: a polar bear named Henry.
The Cochrane Polar Bear Habitat shared video of Henry, a bear that formerly resided at Australia's Sea World Gold Coast, acting as a "Polar Picasso" while wandering around a room filled with paint and paper.
"So how do you get a polar bear to paint? Very carefully! Henry loves pig fat – so our Keepers placed the treat in strategic locations in Henry's holding room so that he'd have to walk through non-toxic paint first and then across art paper. Once they know he's done his best – the trick is to get the 600 lb bear out of there before he REALLY expresses his artistic side – sometimes by rolling on, tearing up – or ripping apart the artwork," the sanctuary said in the video's description.
Henry's paintings, and those created by the sanctuary's other bears, are being sold on the sanctuary's website, www.polarbearhabitat.ca. UPI