Reservoir hydel projects to be focused while announcing energy crisis
January 30, 2016 | 5:48 pm&nbsp&nbsp&nbsp&nbsp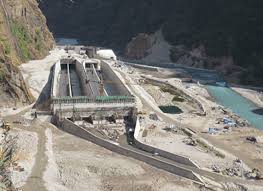 Kathmandu / January 30: The government has decided to give priority to the construction of reservoir-based projects, realising that this type of projects are more beneficial than run-of-river hydropower projects during energy crisis.
The government has planned to announce energy crisis within the new few days with a special focus on the construction of big and multipurpose projects that include storage hydro projects also. The government has set a target of generating 10,000 megawatts of electricity from the reservoir-based projects within the next ten years.
The government is learnt to have been making preparations for taking Budhigandaki, Narsinghagad, Dudhkoshi, Upper Arun, Sukoshi III and Uttarganga, the reservoir-based hydropower projects to a company model as an attempt to address a tedious policy level procedure existing in energy sector and systematise investment in hydropower projects. The construction of the 1200-MW Budhagandaki Project based in Dhading and Gorkha districts is expected to begin by mid-July this year. Detailed feasibility study report about the Jajarkot-based Nalsinghagad Project is to be prepared soon.
According to Energy Minister Top Bahadur Raymajhi, energy crisis prevention period will be announced soon with the target of attaining a remarkable achievement in energy sector and slashing the duration of load-shedding significantly within the next two years.
The government intends to complete the construction of 300-MW Dudhkoshi and Uttarganga projects within a decade by increasing their capacity.
The government is eager to facilitate those interested in investing in big solar energy projects. It is to announce the energy crisis based on the announcement made by the government for the same through the White Paper that was issued on November 25 last year. RSS