Nepali football still has a long way to go (Commentary)
January 30, 2016 | 5:50 pm&nbsp&nbsp&nbsp&nbsp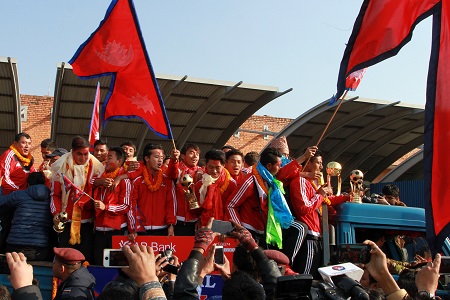 Pritam Bhattarai / Kathmandu: Nepali football gave the Nepalis something to cheer about in the midst of the long-standing sufferings inflicted by April 25 devastating earthquake and Indian unofficial trade embargo.
Nepal, for the first time in 23 years, managed to bring home an international trophy creating history, defeating Bahrain U-23 team 3-0 in the final of Bangabandhu Gold Cup Football Tournament in Dhaka, Bangladesh.
The last time Nepal had won an international title was in 1993 when our national football team defeated India 4-3 in a penalty shootout after a 2-2 draw in the regular time during the South Asian Games in Dhaka, Bangladesh. It was Nepal's third international title since they won the first SAFF Games football title in 1984.
The history-making victory marks a turning point in Nepali football and comes as a hope-instilling moment at a time when the most popular sport in the country is struggling to recover from the match-fixing scandal involving our national players and a coach some seven months ago. This sorry incident had raised a question mark on the development and integrity of Nepali football.
The historic moment also helps in reviving future prospect of Nepali football at home and in international arena alike. The victory also holds a meaning in the context of Nepali football going down constantly in FIFA rankings with Nepal being in 196th position currently in the latest rankings against 192nd the last time.
This epoch-making triumph comes despite Nepali football history going through a sluggish development since its inception some 65 years of history. During its some 43 years of international participation, the Nepali football team has played against 26 nations outside of South Asia. However, it has failed to perform well in the matches except its best performance in the 2002 FIFA World Cup with the national team securing two wins in four matches.
Besides, the national team has long failed to put its mark in the international football beyond South Asia. And, the All Nepal Football Association (ANFA), the Nepali football governing body, is largely to blame for the snail paced development of the sports.
The ANFA being dragged into controversies time and again will not only put a question mark in the development and integrity of the football, but will also affect future of players including newcomers.
It may be noted former ANFA President Ganesh Thapa has recently been suspended, accusing him of involvement in financial irregularities by the world football governing body FIFA. Thapa has been banned from football activities at both national and international level for the next 10 years.
The incident comes after the parliamentary Public Accounts Committee (PAC) had issued a directive to put on hold the power of the ANFA office bearers' including then ANFA President Thapa for the time being on corruption charges. Taking over the issue football administrator, coaches and players handed over a memorandum to then Minister for Youth and Sports Purushottam Poudel and the National Sports Council member secretary Yubaraj Lama voicing fear about their career. This indicates how a corrupting and mismanaged body would affect its overall development and the future of its members.
The memorandum reads that as a result of PAC's directive, the ANFA was deprived of executing its regular tasks, thus affecting football-related activities. It also said the reports about ANFA being mired in controversies time and again had resulted in the sponsors being reluctant to associate with the football association.
Given this situation, it seems that Thapa, during his 19-year reign in office, which has often marked with repeated incident of him being accused of involvement in financial embezzlement and high-handedness, failed to deliver on his responsibility to manage the ANFA systematically and taking the football to a good state in terms of its development as expected.
Another matter to take into account is prompt renovation of structures of stadiums across the country including Dasharath that were damaged by the April 25 earthquake.
Economy is another matter of concern when it comes to sports. It has been reported that unlike in foreign countries, our players at all local and district, regional levels and national levels are forced to take up extra jobs to eke out a living as the payments given by ANFA are not enough to make a living.
And it is not justifiable to expect good performance from them under such circumstances. Similarly, club level football should be encouraged, which serves as a platform for players including newcomers to practice and sharpen their skills.
But sadly not much tournaments are held in Nepal and there is always a lack of sponsors, resulting in lack of practice among players and depriving them of income as well.
So the ANFA is in dire need of dynamic, visionary, credible and honest leadership and it should employ a good coach to take the football to greater height. RSS