NRA's Rs 10 billion proposal for rebuilding quake-damaged schools
June 1, 2016 | 9:34 pm&nbsp&nbsp&nbsp&nbsp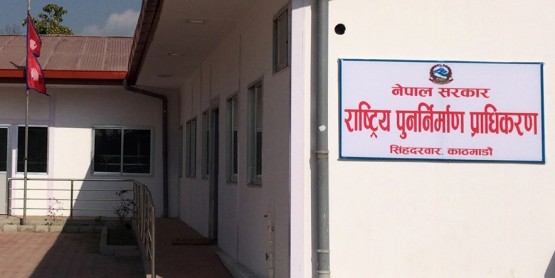 Kathmandu / Jun 1: The National Reconstruction Authority (NRA) has come up with a programme proposal amounting to Rs 10 billion for reconstruction of the quake-damaged schools across the quake-hit districts in the country. The proposal was submitted to the Ministry of Finance for its approval today.
A total of 22,000 class rooms of 8,000 schools across 31 quake-hit districts were recorded to have sustained damages during the 7.6 magnitude earthquake that struck on April 25, 2015.
The government has pledged to rebuild these schools within three years. The reconstruction drive for the same will make headway after the Finance Ministry approves the proposal, said NRA spokesperson Ram Prasad Thapaliya.
The reconstruction of five quake-stricken schools in Lalitpur district is already underway with the financial assistance from Japan International Corporation Agency (JICA).
Similarly, a call for tender has been issued in Gorkha district for rebuilding 28 such schools and in Sindhupalchowk district for 11 schools, according to the NRA. RSS