Dahal bats for national consensus go for constitution implementation
June 4, 2016 | 12:36 pm&nbsp&nbsp&nbsp&nbsp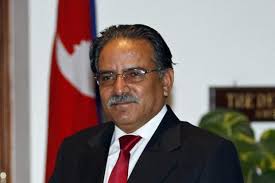 Ramechhap / June 4: CPN-Maoist Centre Chairperson Pushpa Kamal Dahal has said the consensus government would only be able to bail the country out of crisis.
Chairperson Dahal said the implementation of the newly-promulgated constitution by forging consensus is important rather than merely toppling and forming governments.
He said this while addressing a gathering of party cadres at Manthali of Ramechhap on Saturday morning.
There is no alternative to national consensus government to address discontent, reservation and demands put forth by disgruntling groups such as Tharu and Madhesi on constitution and bring the country to the pathway of development by giving outlet to the current problems, he said.
"The country now is passing through a grave crisis and there is the need of forming national consensus government to avert the crisis", the Maoist Chairperson added.
On another note, he said that earthquake survivors were missed to register their names in Ramechhap as in other districts and efforts will be made to keep the records up-to-date. RSS