Hydro workers coax baby bear down from electrical pole
June 4, 2016 | 1:42 pm&nbsp&nbsp&nbsp&nbsp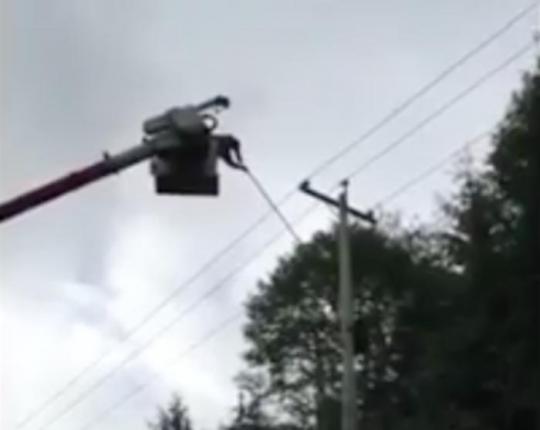 June 03: A baby bear in Canada was able to safely climb down from an electrical pole with the help of a crew of British Columbia Hydro workers.
BC Hydro shared video of the rescue in Port Hardy on Twitter, showing an employee reaching out from a lift and using a pole to gently prod the bear and guide it back to the ground.
The bear becomes too nervous to climb at several moments throughout the 30-second video but eventually made its way down from the 50-foot-high electrical pole with some encouragement from the Hydro workers.
According to the tweet, the Hydro crew de-energized the pole before attempting the rescue to ensure the safety of both the bear and the worker. UPI.com