'There is a lot we can learn from our seniors in the industry'
June 4, 2016 | 2:04 pm&nbsp&nbsp&nbsp&nbsp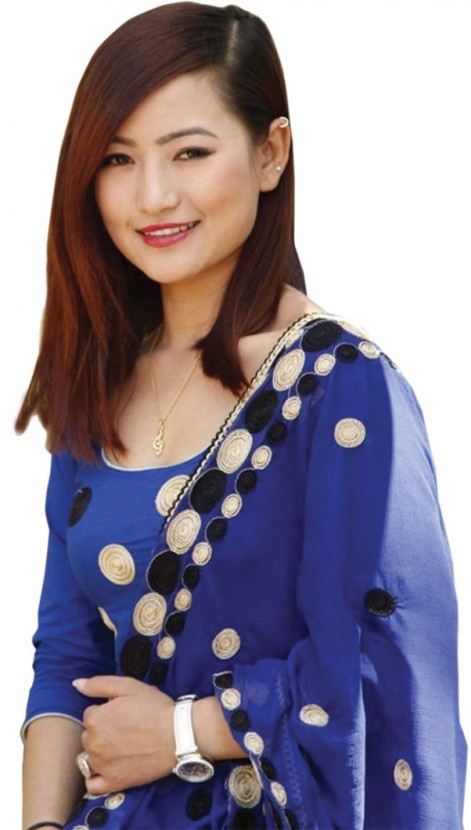 Kathmandu / June 3: When people heard Melina Rai sing 'Kammar Mathi Patuki' from 'Nai Na Bhannu La 3' for the first time, they knew it would be a huge success. The vivacious singer says happily, "Some people heard the song and they immediately told me it would do well but I wasn't sure about it. It's wonderful that people have loved it."
Her song 'Siraima Sirbandi' from the film 'How Funny' was a big hit, too.
However, what many of her fans might not know is Melina has been in the music industry for seven years now. The winner of the Adhunik Geet Pratiyogita organized by Radio Nepal in 2008, she released her first album 'Bahaar' two years ago. In the meantime, she was busy singing for films like 'November Rain,' 'Punte Parade,' and 'Classic' among others.
When asked if she was always been certain about pursuing music, she says, "I was always clear about the career path I wanted to take. Singing was my passion and I wanted to become a singer."
When did your involvement with music start?
I come from a musical family so I guess it was only natural that I would also pursue music. My father is a musician and he is the one who taught me all about music since the age of 10. He's the one who taught me to play harmonium, the only musical instrument I know how to play. I did perform in concerts as a child but my professional life began in 2008. I started out by collaborating in different collection albums with other singers.
What is your favorite genre of music? Who are your favorite artistes?
I have a varied personal taste in music as I listen to gazals, romantic songs, dance numbers, and sentimental songs. Actually, I enjoy any song that has a great bass composition. I love singing along to romantic happy songs. Some of my favorite artistes are Aruna Lama, Sadhana Sargam, Shreya Ghosal, Anju Panta, Jagjit Singh, Arijit Singh, and Rajesh Payal Rai.
How important is mentorship for young artistes like you in the music industry today?
Mentorship is an integral part of any professional's life if they want to grow and polish their skills. Music has an enormous potential in Nepal and it's growing every year, so the importance of mentorship is also increasing rapidly. Every new artiste should be able to respect the advice and suggestions from seniors in the industry. There is no doubt that we can learn a lot from them.
My father is my mentor. He's been a very strict mentor to me and my younger sister. I remember how he used to wake us up at 4 AM to begin rehearsal.
What projects are you currently involved in?
I'm currently preparing for two albums. One is my second album, which is going to be different from my first as there are not just modern love songs but peppy dance numbers and sentimental tracks, too. I'm working with different composers like Tara Prakash Limbu, Basanta Sapkota, and Hari Lamsal which will add different and distinctive flavors to my music. The other album is called 'Alag Upahar' and it is the project of eight music composers based in the UK. It will have eight songs which will be performed by me and Rewat Rai. Both albums should be finished before Dashain. I'm also singing for five different films. Source: http://www.myrepublica.com/lifestyle/story/43580/there-is-a-lot-we-can-learn-from-our-seniors-in-the-industry.html#sthash.EfagJ6ae.dpuf