Kalo Pothi leaves audiences enthralled
June 4, 2016 | 2:07 pm&nbsp&nbsp&nbsp&nbsp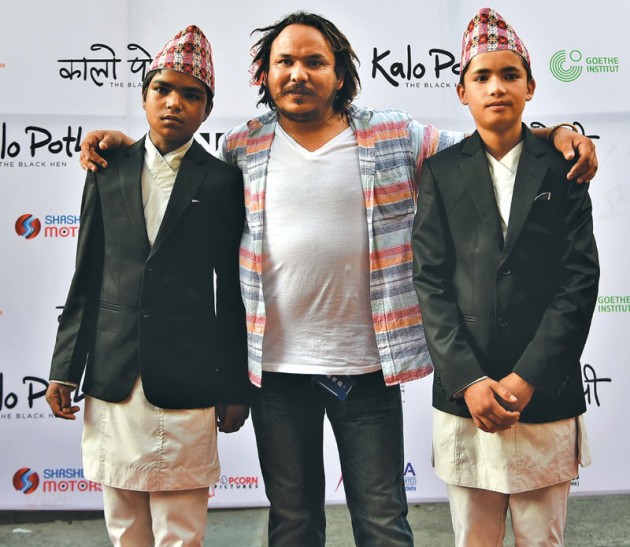 Timothy Aryal / Kathmandu: After winning the Best Film title, under the Critics' Choice category, at the prestigious Venice International Festival and having participated in dozens of film festivals around the world, Kalo Pothi (The Black Hen) is slated for release in Nepali theatres on June 3. The film, directed by Min Bahadur Bham, premiered amid a star-studded affair at the Kumari Hall, in the Capital, on Wednesday.
With searing images, a seamless narration, and an evocative rendition of a historical cornerstone that Nepalis are well aware of, Kalo Pothi will be seeking to bring to the silver screen stories that are seldom told in the mainstream movie industry. The movie set in the backdrop of the 10-year long Maoist insurgency unfolds in Mugu in the year 2001 when the insurgency was at its peak there. Told through the perspective of two children, the movie traces the loss of innocence of not just its protagonists but also the nation at large.
The narrative has been austerely woven: As one of the kids—Prakash—has recently received a hen and a secret affinity develops between him and the bird. So much so that Prakash names the hen Karishma after the beloved Nepali film actress. But one day, the hen goes missing and Prakash is left bereaved, only to later discover that it has been sold by his father for money. There on, the story revolves around Prakash's struggle, along with his friend Kiran, to acquire the bird back and how his desperate search intersects with the violence of the insurgency.
Kalo Pothi features actors Khadka Raj Nepali, Sukra Raj Rokaya, Jit Bahadur Malla, Hansha Khadka, and Benisha Hamal, among others.
Following its premiere, the movie has left those who watched it with awe; and those who haven't with excitement, with many taking to social media platforms to hail the movie and its performances. Source: The Kathmandu Post