Demand for permanent status for workers under temporary provision
June 4, 2016 | 9:15 pm&nbsp&nbsp&nbsp&nbsp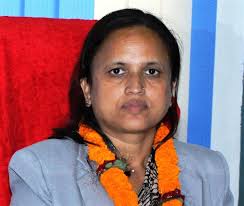 Kathmandu, June 4: Minister for General Administration Rekha Sharma today stressed on need for political consensus to address the problems faced by those employed under the provision of temporary status, contract and allowance basis.
Inaugurating the 1st District Conference of All Nepal Government Temporary Contract and Allowance Employee Labour Association-Kathmandu, Minister Sharma spoke of the need for support of the Finance Minister and the Prime Minister for giving permanent status to employees recruited in temporary position, contract and allowance basis. She called for providing them Dashain, uniform and inflation allowances as well as pension after retirement.
She reminded that at her initiative a courageous step was taken for ending the dual facilities enjoyed by employees posted in high levels and removing the drawback on part of the administrations in withdrawing the facility of employees' temporary deputation.
The Minister added she was pressing for some sort of substantive result within the ongoing fiscal year by calling for a serious deliberation between the government, political parties and the line ministries over the subjects of providing uniform allowance, child care management and Dashain allowance for the discriminated employees.
Association's senior Vice Chairman, Deepak Nepali, said an extensive transformation in bureaucracy would be possible only through Nepali employees' energetic unity and struggle.
Association's General Secretary, Bimala Acharya, called for a halt to the trend of depriving the workers employed under temporary status, contract and allowance of their livelihood and food. Acharya demanded increasing the allowance to Rs 15,000 in line with minimal allowance index along with provision for Dashain allowance and health treatment expenses.
More than 30,000 workers are employed under the temporary status, contract and allowance basis in Nepal while some are forced to work for as low as Rs 500 to Rs 1000 monthly allowances. RSS