Bagmati River Source and headwaters cleaned up as the Campaign enters 160th week
June 4, 2016 | 9:16 pm&nbsp&nbsp&nbsp&nbsp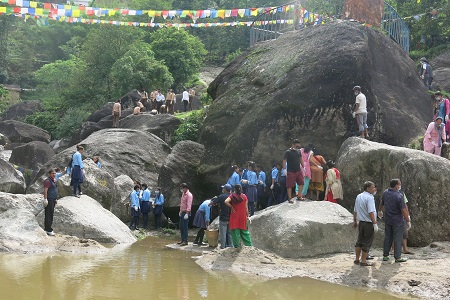 Kathmandu / Jun 4: With the Bagmati Clean-up Campaign entering 160th week today, the campaigners, security personnel, local leaders and volunteers, and locals assembled at Sundarijal in Kathmandu to clean up the source of the River and its headwaters.
Some 60 per cent of the demand for drinking water in the Kathmandu Valley is met through the same source here in Sundarijal.
Although today's clean-up was a part of the Campaign spearheaded by former Chief Secretary Lilamani Poudyal, Nepali Congress (NC) Gokarneshower Town Committee organized a clean-up programme at Bokshi Daha and its premises in the locality on the eve of the World Environment Day.
Wastage amounting to truck-full was collected from the area, according to Shree Krishna Jyoti, President of the Organizing Committee.
On the occasion, NC central committee member Arjun Narshing KC slammed the incumbent government for selling a false dream of reducing the power outage to zero hours by a year. He criticized it for its failure to devise an effective programme to avail a clean drinking water to the public.
Passing a cutting remark on the promises made by the incumbent government, leader KC questioned, "The government has not been able to repair the two dysfunctional turbines in the Sundarijal Hydro Power Centre, the second in the country. How can it fulfill its promise to eliminate power outage in the country?"
Also, speaking on the occasion, President of NC Constituency No 3 Santosh Chalise shared that the clean-up at the Bagmati River Source will be conducted next week too.
Meanwhile, locals were seen engaging themselves actively for cleaning the wastage from the Bagmati riverside at Guheshwari to Jorpati, Pudasaini Maitri Society Chairperson Uttam Pudasaini told RSS.
Similarly, a total of six metric tonnes of wastage was managed in another Bagmati clean-up drive at Buddhanagar. An estimated 500 volunteers joined the drive led by former Secretary Kishor Thapa.
The sanitation drive in the upcoming 161st week of Bagmati Clean-up Campaign will be carried out in Dhobi Khola in Buddhanagar and the confluence of Bagmati River. RSS