Sports crucial for building disciplined society and prosperous nation: Vice President Pun
June 4, 2016 | 9:16 pm&nbsp&nbsp&nbsp&nbsp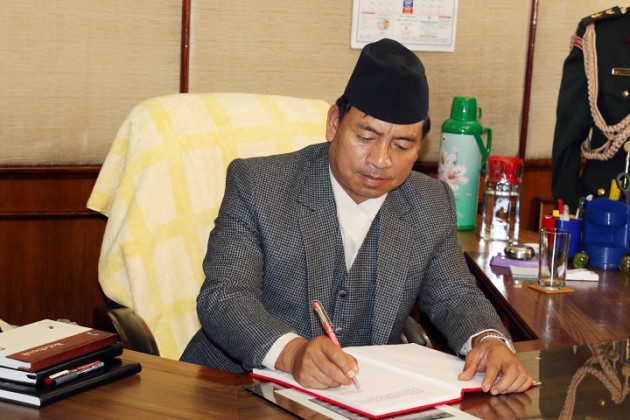 Pokhara / June 4: Vice President Nanda Bahadur Pun has said sport has an important place in building a prosperous nation, a dignified society and healthy citizens.
Inaugurating the Lekhnath Stadium at local Bhandardhik in Lekhnath Municipality here today, the Vice President said the construction of the sports stadium here would contribute to the development of sports not only in Pokhara and Kaski but of the whole country.
The stadium was constructed at a cost of Rs approximately Rs 8 million provided by the Supreme Committee for Delivery and Legacy Institution based in Qatar, the Lekhnath Municipality and the Lekhnath Chamber of Commerce and Industry.
He said sports is an important means for fostering friendship, peace and understanding which also helps in producing physically and mentally healthy citizens and making the country known to the world.
Noting that the performance of the Nepali youths in cricket and football in international competitions has enhanced the national pride, he said the State should also extend support as far as the resources could meet to keep the morale of the players high.
The Vice President also stated that the State should invest in construction of physical infrastructures in the sports sector for producing and training players.
Assistant Executive Director of the Supreme Committee Nasiral Khatar said the Qatar government is providing assistance for the construction of 12 stadiums in different districts of the country including Kaski, Kailali and Makwanpur. He also said that Qatar was hosting the World Cup 2022.
Lawmaker Yagya Bahadur Thapa, Club advisor Chet Bahadur Gurung and footballer Upendra Man Singh spoke on the important contribution of sports in national development. President of the Adarsha Youth Club Laxmi Prasad Bhandari presided over the programme. RSS