Our goal is to create trafficking free world: Sunita Danuwar
June 6, 2016 | 10:18 am&nbsp&nbsp&nbsp&nbsp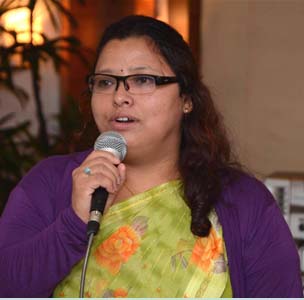 Kathmandu: For many it looks unbelievable that a trafficked woman could lead a social movement in a closed society like Nepal but Sunita Danuwar broke all social barriers and has been able to become a role model for many people across the globe. Danuwar became a sex-slave at the age of 14 but now she is running an anti-trafficking campaign and also providing support to survivors of trafficking. Shakti Samuha, a non-governmental organization formed by 15 girls rescued from brothels of India including Danuwar, has now become a ray of hope for many and is a leading organization working in this field. Her contribution to humanity is really laudable and should be respected by all. Shakti Samuha and Sunita received various prestigious awards at the national and international level including Ramon Magsaysay Award in 2013. Nepalekhabar talked with her about various aspects of human trafficking, the role of Shakti Samuha and her motivation and dream among others. Here are the excerpts:
Can you shed light on the activities you are doing at the moment?
We have been working to raise awareness about anti-trafficking and also providing support to survivors of trafficking. Currently, we are running programs in 15 districts. We have been running programs for prevention, protection and capacity building. We have been running five shelters for survivors of trafficking in coordination with the Government of Nepal and other organizations. Our shelter in Sindhupalchowk is being run in collaboration with the government of Nepal. Similarly, we have been implementing project for empowering girls and women for prevention and protection from human trafficking among others. In a nutshell, we have been actively engaged in prevention of human trafficking and also providing support to survivors.
Can you share with us what your feeling was at the time of forming the organization? Were you expecting that you will reach this level or you have not reached the level you are dreaming for?
Actually the organization was formed by 15 trafficking survivor girls who returned from brothels of India. We did not have big dreams during the time of establishing this organization but we have deep commitment for our work. At that time we were not sure where we would reach but we were very committed to work on the theme. We reached this level due to our commitment and tireless efforts in this sector despite various obstacles.
Where do you want to reach?
Actually, we continue to work on the theme of human trafficking. We are committed to the issue. If you talk about the organization goal we want to create a trafficking free world. Similarly, if you talk about personal goals, I want to do PHD as many people have completed PHD about our organization and the issue we are working. We are committed towards our goal so we will continue to work towards it whether we reach there or not.
You along with other members of the organization received various prestigious awards; how it has benefited the people you are serving?
These awards and recognition has been a big boost in recognizing our issues and work at the national and international level. We have been visiting many universities and organizations in different countries and interacting with them about the situation of our country and these awards and recognitions helped us to reach there and raise our issues. We feel that these awards and recognitions have added more responsibility to us. We feel that we should be more responsible and work more on the issue as we got the award and recognition for the same.
What was the government's attitude towards the issue of trafficking? Are the government mechanisms supportive or they are just keeping mum when it is connected with politics?
The government's attitude has changed and it is supportive on the issue of trafficking. Necessary laws have been formulated and the bureaucrats are supportive. However, there is a gap of effective implementation of legal provisions. The law enforcement part is still weak due to government mechanism. Similarly, another problem we have been facing is frequent transfer of bureaucrats. For example, when a new official comes, we need to orient them and do a lot of work to sensitize them and when they internalize the issue they get transferred and we have to start the same process again from zero level. Similarly, the investment from the state for rehabilitating the trafficking survivors is also not sufficient. The government should invest more resources for controlling the heinous crime and also rehabilitate the victims.
What are the challenges your organization has been facing at the moment?
We have been active in the national to international level raising voices on the issue. Due to our continuous efforts, awareness has been raised about the issue and attitude towards the survivors has changed. The main challenge is how to motivate survivors towards starting a new life as they have been severely traumatized. Similarly, we faced challenges due to the earthquake as some prisons were destroyed during the earthquake and the perpetrators serving jail terms fled – they have been threatening victims and there is a fear that they may again get involved in similar activities. Similarly, there is unfair competition among the organizations working in this field. For example, many organizations are rehabilitating survivors in the society without providing proper care and counseling to them and even without proper assessment of the environment, which can again lead to trafficking. Similarly, we have been facing challenge of funding as we do not have long term funding commitment from donors, so, we have to struggle for fundraising. If there were long term funding opportunities, we could have implemented programs effectively. Similarly, understanding of the donor is also a challenge. For example, some donors have been questioning why rehabilitation is not done immediately as this is a time consuming process and we need to make sure that the victim does not face any discrimination in the society and face any challenges before rehabilitating them. Similarly, the network of perpetrators involved in human trafficking is also a challenge.
It is said that the issue of trafficking is increasing every day and Nepali girls are being trafficked to Africa as well (in the past it used to be India). What are your attempts to control such networks of girls trafficking?
Yes, you are right, the trend of trafficking has changed these days. In the past, girls were being trafficked to India and still many girls and children are being trafficked in the brothels of India but these days the route has also changed. There is internal trafficking. Similarly, there is a trafficking of girls and women in the pretext of foreign employment. Similarly, some girls and women are being trafficked in the countries where they can travel under tourist visa. Similarly, trafficking is being done by marriage bureaus. There are mushrooming growth of manpower agencies and some of them are also involved in human trafficking. The government has not been able to do proper monitoring of these institutions, which is also giving rise to the trafficking of women and girls.
Where do you see Nepal in next five years in terms of human trafficking? Will it be progressing or not?
I am not sure what the situation would be in the next five years. It may increase due to new trend of human trafficking or it may decrease due to government's improved monitoring mechanism and effective implementation of laws. However, we will continue to work to raise awareness in the society, so for sure, the awareness level about the issues will have increased in the coming five years. The issue is also getting prominence in planning and other sectors.
What are the attempts of your organization to rehabilitate the victims in the society and provide them skill oriented training for livelihoods?
We have been providing three month psycho-social training to the survivors. After providing counseling, we support them to make plans on what they would like to do. If they want to go to the society and rehabilitate there, we assess the situation in the society and rehabilitate them after providing necessary support. For example, we support them to initiate some activities for livelihoods like running small retail shop or any income generating activities. If they want to study, we support them for continuing their education. Similarly, if they want to learn some skills, we support them to get such training. After counseling, we support them to identify their goal in life and support as per their interests.
The issue of human trafficking is deeply rooted with poverty, so, what could be the role of government, social organizations and civil society to address the problem?
Although we are providing support for rehabilitation of trafficking survivors, there is still a big gap of resources, as this is a long term process and we do not have sufficient funding. Therefore, all donors and government should provide funding for providing rehabilitation services to the survivors. Rather than just seeking immediate returns, donors should support for long term funding for the rehabilitation service. We must ensure that the survivors get secure environment for rehabilitation. All the organizations working in the field should work for proper rehabilitation of the victims rather than just working to increase the number of persons rehabilitated and impress the donors. The situation will be very serious if the trafficking survivors are re-victimized due to lack of proper support mechanism in the society. My humble appeal to all is let's stop counting the number of people we rehabilitated rather provide services as per their needs.
How do you see your life? Are you satisfied with the work you have been doing or what is your dream? Do you plan to join politics?
You are aware about my miserable story. I have reached my current position due to continuous hard work and dedication. This is the result of a long struggle as I have been involved in this sector for more than 20 years. So far, I am satisfied from what I have been able to do. I will continue to work in this field whether I will be in Shakti Nepal or not and want to be the source of inspiration for people working in this sector. I want to work for creating trafficking free society. Regarding joining politics, I do not have any plans of joining politics at the moment but I may join if I see the possibility that I can contribute to the whole country and women of this country.
Do you have any message to the readers through Nepalekhabar.com?
I want to appeal all that trafficking is the result of betrayal and compulsion, so we need to support the victims / survivors in whichever way possible. We need to focus on youth development and how to stop the migration trend and empower youths. We can make a prosperous country and stop trafficking through youth development. All people regardless of borders should join hands for ending human trafficking. It is very challenging to work in this sector, so we need to support each other to end trafficking and provide proper rehabilitation to trafficking survivors.
(Editor's Note: How do you find this interview? Please send your comment at editor@nepalekhabar.com or editor.nepalekhabar@gmail.com)