Wild tuskers' menace in Saptari
June 8, 2016 | 9:52 pm&nbsp&nbsp&nbsp&nbsp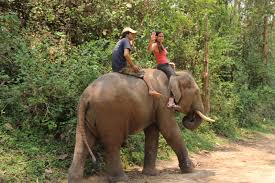 Rajbiraj, June 8: A rise in tusker menace in the past few days in eastern localities of Saptari has sent locals running for their lives.
A horde of wild elephants straying to the settlement in Kamalpur of Saptakoshi Municipality –9 from Koshi Tapu Wildlife Reserve vandalized at least six houses last night.
The elephants were seen in three groups and vandalized six houses belonging to four families and a house of one Satyanarayan Yadav, Area Police Office, Kanchanpur said.
The elephants also relished the food grains stored inside the houses during the vandalism and caused damages to clothes and crockery, said Sub Inspector, Tej Bahadur Basnet. The locals and police finally chased away the elephants towards the Reserve.RSS