Manpower agencies charging up to Rs 1 million for foreign employment
June 8, 2016 | 9:54 pm&nbsp&nbsp&nbsp&nbsp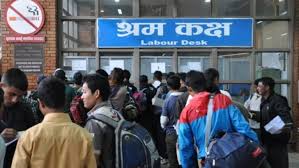 Kiran Bhattarai (Kathmandu) / June 8: Janak Bista, who recently returned from United Arab Emirates (UAE) after failing health test, had to pay Rs 750,000 for a job as a security guard in the UAE beforehand in opposition to the government provision of free visa and free ticket for foreign employment.
The incident came to light after Bista revealed the incident after his return from UAE having failed his health test.
On February 24, 2016, the Metropolitan Police Crime Division acting on a tip off raided 18 manpower agencies in the Capital on the charge of overcharging foreign employment aspirants and among them is Dhumbarahi-based SRS Overseas, the same agency which overcharged Bista to send him to the UAE.
During the investigation, the SRS Overseas was found to have forged receipts claiming that Bista along with other 14 foreign job aspirants paid Rs 10,000 as service charge for flying to the UAE, police said.
Now, Bista has filed a fraud case at the Department of Foreign Employment (DoFE) against the SRS Overseas owner Shuvadra Devi Baral, seeking for justice and recovery of his money taken by the manpower with a promise of finding him a job in the UAE.
"I was made to sign a paper that claimed that I paid them only Rs 10,000 as service charge before flying to the UAE. But I secretly recorded on my mobile phone the conversation of the dealing wherein I paid Rs 750,000 beforehand and I produced it to the DoFE as an evidence," Bista said.
Spokesperson for the DoFE Mohan Adhikari said that Baral five days ago deposited Rs 650,000 meant for reimbursing Bista following the direction of the DoFE for Baral to report to the office within 24 hours last week.
Similarly other 18 foreign job aspirants who initiated the process through the SRS are in the waiting list to fly to Gulf countries, it has been learnt.
The SRS has taken money ranging from Rs 700,000 to Rs 7,50,000 from each of them in advance.
Earlier, during Dubai visit by secretary of the Ministry of Labour and Employment Bishnu Prasad Lamsal last week, Nepali migrants working in various companies in Dubai as security guards who landed there through various manpower agencies for overcharging them told him that their manpower agencies back in Nepal charged them up to Rs 800,000 each to send them to Dubai.
Following this incident, Lamsal directed bodies concerned to raid those manpower agencies overcharging foreign job aspirants and take action against them.
Other manpower agencies are found overcharging foreign employment aspirants include DD Overseas, Al Secure Manpower and Victory Manpower.
Bista said that those 15 Nepali migrants who flew to UAE along with him were yet to get their labour agreement done.
According to Bista, the Nepali migrants working in the UAE told him that their employers told them that the manpower agency which sent them there already took money tantamount to one month's salary of each of them.
Last year the government had brought in place a provision of free visa and free ticket for those foreign job aspirants flying to Malaysia, Qatar, Baharain, Saudi Arab, Dubai, Oman and Kuwait.
However, many manpower agencies are found to be overcharging Nepalis seeking job opportunities to these countries.
On the part of concerned authority, advocate at the People's Forum working in the field of foreign employment Som Luintel said that the trend of the DoFE settling any filed fraud case in relation to foreign employment in mutual agreement between both the victim and perpetrator, thus letting the guilty walk free has made the matter worse.
He said that the guilty should be punished as per laws instead of settling such case in mutual agreement between the victim and guilty.
When asked, director of the DoFE Rama Bhattarai said that the DoFE was working to make improvement in the foreign employment sector. RSS