PM urges int'l community to investment in Nepal
June 8, 2016 | 9:54 pm&nbsp&nbsp&nbsp&nbsp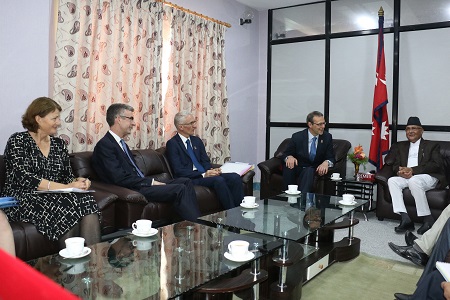 Kathmandu / June 8: Prime Minister KP Sharma Oli has today sent an appeal to the international community for bringing investment in Nepal as the country has set foot on an investment-friendly environment with the promulgation of the new constitution.
PM Oli made such an appeal during a meeting with the representatives of the foreign donor agencies at his office in Singha Durbar.
The UK Foreign Ministry's Secretary, Sir Simon Macdonald, and Department for International Development (DFID) Secretary, Mark Lowcock, and the United Nations High Commissioner for Refugees (UNHCR) office representatives met separately with the PM.
The PM and British secretaries held talks on further consolidating the mutual relations between the two countries coinciding with the occasion of the bicentenary of establishment of diplomatic ties.
The British secretaries also inquired about the implementation phase of Nepal's Constitution whereas OHCHR representative broached the subject of Bhutanese refugees and Nepal's economic stride forward.
The PM urged the British secretaries to have no qualms over investing in Nepal as an investment-friendly environment has been established, PM's Foreign Affairs Advisor, Gopal Khanal, told the journalists.
The British secretaries expressed their happiness at seeing Nepal embark on a path of economic progress after the promulgation of the new constitution, and held comprehensive talks on ways to draw British investment in bigger projects in particular and secure such investments.
According to PM's Foreign Advisor Khanal, PM responded to the British concern over constitution's implementation confirming to them that Nepal's is currently in constitution implementation phase, and that all problems have been sorted out. He added that remaining issues would be dealt with through dialogue and consensus.
DFID Secretary, Mark Lowcock, said that cordial talks were held with the PM on Nepal's modern development and bilateral support.
The UNHCR delegation focused on playing crucial role on resolving the problems faced by the Bhutanese refugees and Nepal's economic development.
In a briefing to journalists following the meeting, UNHCR representative, Craig Sanders, said that talks were held on Nepal's contemporary situation and Bhutanese refugees. RSS