Tarini Prasad Koirala Memorial Media Village in the offing
June 9, 2016 | 10:28 am&nbsp&nbsp&nbsp&nbsp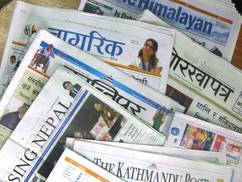 Morang / June 9: A memorial media village will be set up at the Kharji Chowk in Biratnagar – 5 in commemoration of the Radio Nepal's late founder, Tarini Prasad Koirala.
Prime Minister KP Sharma Oli is scheduled to lay the foundation stone on June 11 for the park to be established in partnership between Radio Nepal and Biratnagar Sub Metropolis, according to the Biratnagar Sub Metropolis.
The park will be set up at a cost of Rs 80 million, Sub Metropolis' Executive Director, Dopal Regmi, said at a press briefing held on Wednesday evening.
The Village will house 'Meet the Press' hall, song recording centre and a regional museum. It will also run musical programmes.
The construction bidding process will start within a month after the foundation stone is laid, and the park will be readied within the next 18 months after the signing of the tender deal.
Koirala had started broadcasting programmes of the Radio Nepal under the name, 'Democratic Radio' from Jute Mill in Biratnagar in 1950 (2007 BS). RSS