Pathivara Devi's temple receives Rs 2 million in offerings in 17 days
June 10, 2016 | 10:34 am&nbsp&nbsp&nbsp&nbsp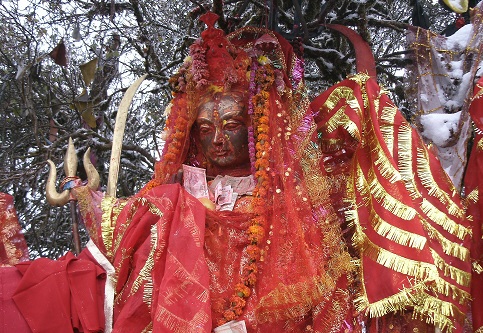 Taplejung / June 10: The famous pilgrimage site – the Pathivara temple – located in Taplejung does not only receive a regular flow of thousands of visitors and devotees but also the cash they offer as part of the ritualistic performances.
The temple collected a whopping Rs 2.14 million in offerings in just 17 days from May 18 to June, according to Pathivara Religious Offerings Management Committee.
The number of visitors to the temple usually decline during the pre-monsoon period, but this year it has been particularly higher as compared to previous years. The temple had received Rs 1.4 million in offerings from April 12 to May 4.
The Hindu Goddess, Pathivara Devi, must be glad for the amount of gold and jewelleries offered during the same period were also unusually high. It is believed that worshipping the Goddess Pathivara would make one's wishes come true. RSS