Solar lights distributed among 40 poverty-stricken families
June 10, 2016 | 10:29 am&nbsp&nbsp&nbsp&nbsp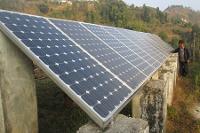 Morang / June 10: The solar powered lights were distributed among poverty-stricken communities here in Mahadeva VDC in southern tip of Morang district on Thursday.
The District Development Committee-Morang, Girija Prasad Koirala Foundation and Consumers' Committee jointly distributed the solar lights to communities in the backburner.
Nepali Congress' woman leader and GP Foundation Chairperson, Sujata Koirala, handed over solar lights worth Rs 376,000 to 40 households amidst a function held at Mahadeva village.
She said that her party has always worked for poor and backward communities' economic progress. RSS