Human rights film festival kicks off
June 10, 2016 | 9:23 pm&nbsp&nbsp&nbsp&nbsp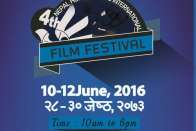 Kathmandu / June 10: The Fourth Nepal Human Rights International Film Festival kicked off in Lalitpur from today.
The three-day event is being organised with the objective of developing the film as the campaign for social and cultural change for the protection of an individual's right to life.
The film festival organised by the Human Rights Film Centre is taking place at the Staff College in Lalitpur. Films from different countries voicing the concerns of the oppressed and marginalised communities will be screened as part of the festival.
Director of the Film Festival Pandav Khatri Poudel said that altogether 32 films from 13 different countries, including Nepal, India, Bangladesh, Pakistan, Israel, Iran, Iraq, Australia, Cambodia, America, among others will be screened.
Of the 32 films that will be shown on the occasion, 32 films including five Nepali films are included in the competitive category. Similarly, four films will be screened under the 'Nepal Corner' theme while the film Jogimaraka Jiunda by Mohan Mainali and 'Raktamya Gara' by Dhruba Basnet would be screened under the theme – 'Atit ka Aankha'.
Films from Pakistan, Bangladesh, Maldives and Sri Lanka will be shown under the special screening. RSS