Big Buddha statue installed at Nagarkot
June 10, 2016 | 9:29 pm&nbsp&nbsp&nbsp&nbsp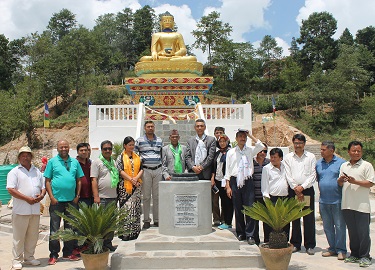 Bhaktapur / June 10: A big statue of the Lord Buddha has been installed at Shantidanda, Nagarkot of Bhaktapur in view of attracting the tourists.
The statue was installed at the open space of about 80 ropanis of land there as the area was at high risk of encroachment. The construction of the idol and other infrastructure was begun three years back.
The statue was installed at a total cost of over Rs 10 million rupees which was collected from the donors as well as from the parliamentary development fund, said Dhan Bahadur Lama, chair at the users' committee.
Along with the installation of the idol, a park, rest rooms, water taps and attractive garden were also constructed at the place. The construction committee has aimed at developing the site as the meditation place for Buddhist followers and it is expected the idol will contribute to developing Nagarkot area as a notable touristic hub in the future.
Lawmakers, Prem Suwal and Anuradha Thapa Magar stressed on developing the site as the Buddhist study centre adding that it will help preserve the culture.
Another lawmaker, Rameshwor Dhungel urged for developing a model e-library at the site. RSS