350 km pipe laid for Melamchi water supply in Kathmandu Valley
June 10, 2016 | 9:29 pm&nbsp&nbsp&nbsp&nbsp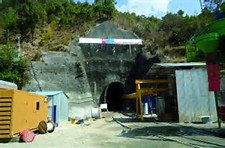 Kathmandu / June 10: Water pipes in a total of 350 km length have been laid down in the Kathmandu Valley for the distribution of drinking water to be supplied after the completion of the Melamchi Drinking Water Project. It is the half the total pipes to be installed.
Similarly, of the total 61 km of water supply pipes to be installed for the retail distribution of the drinking water, only 22 km of such has been laid as of now, according to the Project Implementation Directorate (PID), Kathmandu Upatyaka Khanepani Project (KUKL).
"The Kalika Constructions Company is undertaking the installation of water supply pipe for retail distribution for drinking water from Sundarijal-Arubari-Mahankal whereas the India's Jindal Company has been assigned for the same for Mahankal to Chuchhepati section," shared Project PID Chief Tiresh Prasad Khatri.
He added that the experimentation in the 9.5 km long water supply pipe along the Sundarijal-Arubari-Mahankal section will be carried out within a week.
Meanwhile, the road section along the Mahankal-Chuttepati-Chabahil has been disrupted due to delay in installation of water supply pipe.
Local Santosh Ghimire commented that the contractor has been taking more than a month to install merely 500 metres of pipe, leaving the dug road as it is, adding inconvenience to the commuters. As a result, the traffic and mobility in these areas have been facing hardship, particularly during the rainfall.
PID Chief Khatri attributed the delay in the supply of the pipe which is brought from China.
The Melamchi Drinking Water Project is expected to bring 170 million litres water in the Kathmandu Valley after filtering it in Sundarijal Water Treatment.
The distribution of drinking water under this Project is expected to start from May, 2017. RSS