Naya Shakti Nepal set to make formal announcement of party formation
June 11, 2016 | 8:43 pm&nbsp&nbsp&nbsp&nbsp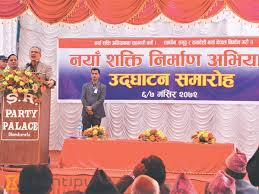 Kathmandu, June 11: Former Prime Minister Dr Baburam Bhattarai led Naya Shakti Nepal is set to make a formal announcement of the formation of a political party amidst a function to be held on Sunday at Dasharath Stadium.
The party will hold open session on Sunday and closed-door sessions on Monday and Tuesday at the Nepal Academy, Spokesperson Khimlal Devkota said. The closed-door session will finalize the names of additional number of party officials.
The party has formed a Main Management Committee headed by Devendra Poudel and 18 other sub-committees for the declaration of the formation of the party. The party's representatives from all 75 districts of the country will take part in the ceremony along with representatives from foreign countries.
The party has invited Prime Minister KP Sharma Oli, representatives of all the political parties and ambassadors from 25 diplomatic missions based in Nepal to attend the gala event.
Indian leader KC Tyagi, DP Tripathi and leftist journalist, Anand Swaroop Verma have arrived in the capital city to participate in the ceremony and extend their best wishes.
The party will take out a rally from Kupondole, Babarmahal, Kalimati and Ratna Park which will converge at the Dasharath Stadium at 12 noon. The rally will not travel through the road in order to avoid traffic congestion, but walk through the footpaths, Devkota shared.
The party will also adopt a new trend of providing Biryani dish to 1,500 representatives taking part in the demonstration. The party prepares to designate more than 100,000 persons as founding members with the slogan 'Now the outlet is economic development'. RSS