Lumbini is a pride of the nation: President Bhandari
June 11, 2016 | 8:44 pm&nbsp&nbsp&nbsp&nbsp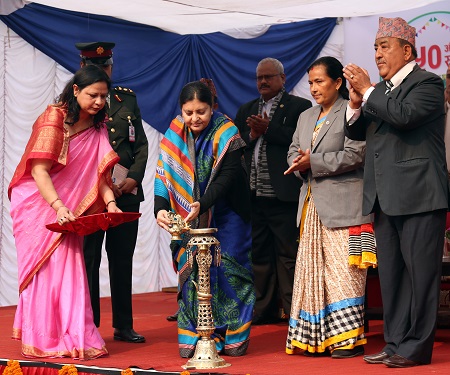 Kathmandu / June 11: President Bidya Devi Bhandari has emphasized on the need to preserve and promote the sacred sites around the birthplace of Gautam Buddha and develop Lumbini as a town of peace internationally.
Speaking at a programme organized today at the Sulakchan Kirti Bihar in Chovar to extend best wishes to Chief of the Bihar Dr Anoja Guruma, who was recently honoured with the 'Mahasadhamma Jyotikdwaj Award 2016' by the government of Myanmar, President Bhandari said it was a matter of pride and happiness that Lumbini remains as a sacred pilgrimage for Buddhists around the world and also for those who believe in peace, non-violence, fraternity, tolerance and compassion.
First Nepali Buddhist nun to attain a PhD in Buddhist philosophy, Dr Anoja was honoured with the award by the government of Myanmar for her extensive research and publicity of Buddhist religion.
On the occasion, the President expressed the belief that the followers of the Buddhist religion could spread Buddha's knowledge and message to make human life disciplined, happy and prosperous and help the society towards attaining permanent peace.
She further said that the government was bringing forth programmes with aims to promote and conserve the diverse features and norms of Nepal which has remained as an exceptional garden of diverse languages, religions and ethnic communities. "Nepal – the birthplace of our pride, Gautam Buddha, and the holy land of great sages – will play a special role in cultural and philosophical areas," Bhandari said.
On the occasion, Minister for Culture, Tourism and Civil Aviation, Ananda Prasad Pokharel, said Gautam Buddha imparted the message of the uprising of non-violence, people's welfare and peace from Lumbini which we must take to the international community with pride. "It is necessary that we work together to bring devotees around the world to Lumbini by expanding and developing Tilaurakot, Ramgram and Devdaha areas," he said.
Also speaking at the programme, Ambassadors of Sri Lanka and Myanmar and First Secretary of Chinese Embassy in Nepal highlighted the cooperation being extended to Nepal for the development and expansion of Lumbini while shedding light on various aspects of bilateral cordial relations.
Promoter of Buddhism Ashwoghos Mahasthaveer and Buddhist nun Dhammawati Guruma shared information that Dr Anoja has gained immoderate success in making the publicity of Buddhist philosophy not only in the nooks and corners of Nepal but also in five continents of the World.
Felicitated personality Dr Anoja extended her best wishes to one and all for success in the campaign of making Buddha's teachings useful in life.
On the occasion, she was awarded with letters of appreciations by several organizations in recognition of her contribution to the promotion of Buddhism. RSS