Naya Shakti formally announces party establishment; hopes to be first party soon
June 12, 2016 | 9:54 pm&nbsp&nbsp&nbsp&nbsp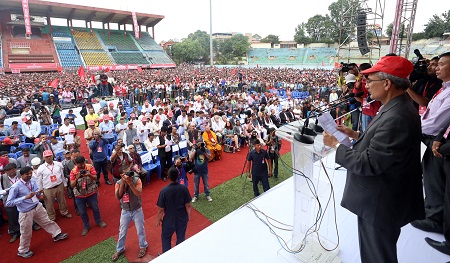 Kathmandu / June 12: The Naya Shakti Nepal has been formally announced as a political party. Administrating oath to party members, Coordinator of Naya Shakti, Dr Baburam Bhattarai, announced the establishment of Naya Shakti amidst a function organised at Dasharath Stadium.
Nepali Congress President Sher Bahadur Seuba, CPN (Maoist Centre) leader Krishna Bahadur Mahara, Rastriya Prajatantra Party leader Sunil Bahadur Thapa, leaders of different political parties of India as well as representatives of international organizations were present in the programme.
Similarly, present on the occasion were leaders of civil society, human rights activists, businessmen, journalists, among others.
Different cultural processions were performed before the inaugural session.
New Force to be first party after coming election: Dr Bhattarai
Addressing the party announcement gathering organized here Sunday, New Force Coordinator Dr Baburam Bhattarai said his party was formed not to challenge any other party but to build a prosperous Nepal. He claimed that his party would stand first in the coming elections at local body and of the House of Representatives.
"Nepal's first political phase focused geographical unification, while second the political independence. So, the third phase now should concentrate prosperity and economic development," said Coordinator Dr Bhattarai, announcing the roadmap that in coming seven years, Nepal would eliminate poverty and unemployment, and bring midscale development in 15 years and become the richest country of the world in 25 years.
Moreover, leader Bhattarai said he would not earn personal property until all citizens in the country owned personal houses. "It's my resolution," he stressed.
He stressed the need that women should be ensured equality and inclusiveness for the balanced development in the country.
He said that his party would be inclusive by representing all groups and communities including Madhesi, Khas, Arya and Janajatis.
On finding ways to end thriving corruption in the country, he offered a way that his party would launch a campaign to clean up mess in politics.
Likewise, President of main opposition Nepali Congress Sher Bahadur expressed belief that the New Force would support to prevail peace and create conducive environment for investment in the country.
"Only sustainable peace and creation of a conducive environment for investment will help realise the vision of prospering and developing the country," he said.
Similarly speaking at the gathering, leader of CPN (Maoist Centre), Krishna Bahadur Mahara said that economic development would not be possible without able political leadership.
"The alternative to country's development and prosperity offered by the New Force should not turn into disappointment," said Mahara, leader of the same party from which New Force coordinator Bhattarai broke away.
At the event, leaders from different political parties in Nepal and neighbouring India–including Co-Chairman of Sanghiya Samajbadi Forum Rajendra Shrestha, NC leaders Pradip Giri and Surendra Prasad Chaudhary, Rastriya Prajatantra Party Nepal leaders Sunil Kumar Shrestha and Sunil Bahadur Thapa, Bharatiya Janata Dal United's General Secretary KC Tyagi, Nationalist Congress Party of India's General Secretary DP Tripathi, Bharatiya Bahujan Party Spokesperson Sudhindra Bhadoriya and Tisari Duniya's Editor Ananda Swarup Barma extended best wishes to the New Force. RSS