Naya Shakti passes principle of socialism oriented left democratic party
June 14, 2016 | 10:00 pm&nbsp&nbsp&nbsp&nbsp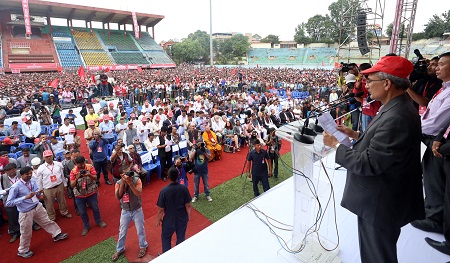 Kathmandu / June 14: The national gathering of the Naya Shakti held for party announcement concluded on Tuesday by passing the principle of socialism oriented left democratic party.
The party has set the goal of economic prosperity with the slogan- 'prosperity possible within our time'. In order to implement these, the party has decided to abide by the good governance and transparency.
The national gathering passed the political, economic and organizational proposals. Even an 8-point contemporary proposal was approved in the meeting.
A 499 member general convention organizing committee has been formed under the coordination of party leader Dr Baburam Bhattarai, said Spokesperson Khim Lal Devkota. The national gathering was inaugurated at Dasharath Stadium while the closed session at Nepal Academy.
The Naya Shakti has made the resolution that the country would become prosperous in 25 years, as the struggles for rights have been over with the writing of the constitution.
However, the party has demanded the address to the issues relating to Madhesi identity, while coming with the suggestion that war-era cases could be settled in line with the transitional justice.
Income Expenditure made public
According to Spokesperson Devkota, the party's spending during the gathering was Rs 16 million. The amount for the gathering was collected from its 114,000 members. They were asked to compulsorily donate Rs 105 while voluntary assistance was also collected. Entry fee was charged for 1,500 representatives, he added.
For the publicity of the gathering, the party spent Rs 3.6 million. RSS