Melamchi water in Kathmandu by Sept 2017
June 15, 2016 | 9:53 pm&nbsp&nbsp&nbsp&nbsp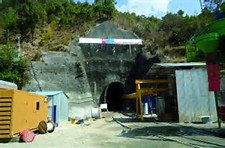 Kathmandu / June 15: The Melamchi Drinking Water Development Committee has said the Kathmandu people would get the Melamchi water by September 2017.
Talking to media persons at Sundarijal tunnel construction site, Deputy Executive Director of the Committee Jyoti Kumar Shrestha said, "As 17.14 km out of the total construction of the tunnel has completed, it would not take more than one and half year to complete the project."
Now, the project is to dig the 10.44 km long tunnel for the completion. He said the earthquake and and broader blockade were the reasons behind the delay in construction of the tunnel which, as per the agreement, had to be accomplished by the Italian company by September 2016.
The Kathmandu Valley gets as much as 170 million litres of water day from the Melamchi River of Sindhupalchowk after the treatment at Sundarijal. For the distribution of the water, the project implementation directorate of the Kathmandu Upatyaka Khanepani Limited has finished 43 percent of the placement of water pipes in the Valley. RSS