66th anniversary of PSC; President Bhandari lauds PSC's huge scope of work
June 15, 2016 | 9:55 pm&nbsp&nbsp&nbsp&nbsp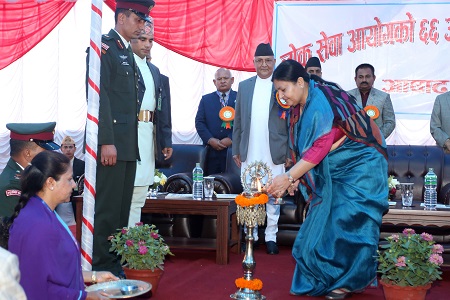 Kathmandu / June 15: President Bidya Devi Bhandari has lauded the Public Service Commission (PSC) for its extended scope in the context of the country moving towards the phase of re-structuring.
Addressing the 66th anniversary of the PSC here today, President Bhandari lauded the Commission for encouraging the public for the service of the nation, and winning the trust of the people at large.
She spoke of the need for other government bodies to emulate the deeds of the Commission that stands as the oldest and leading constitutional body.
Also speaking at the event, Prime Minister KP Sharma Oli reaffirmed the government's commitment towards the effective and even implementation of the new constitution and ushering the country towards development and prosperity by ending the transition.
"We are working hard to hold elections in local bodies, province and parliament in one and half years time. Necessary rules for the same will be formulated by mid-September and all the long overdue elections will be held by mid-December next year", he said.
Furthermore, Prime Minister Oli said that the provincial level election will be held by June 2017 while parliament's election will be held by mid-Dec the same year. Arguing that all will be a failure if the governance mechanism of the State fails, he urged the concerned bodies such as government, legislature-parliament, constitutional bodies and political parties to work in a way to achieve successful results.
The Prime Minister was of the conviction that all of the state mechanisms would function autonomously if the public that get a sense of democracy.
He commended the Commission for gaining the confidence of the public with its transparent and unbiased methodology in selection of competent civil servants.
Similarly, the PM pledged that the government would do its best to help make the commission more capable and effective.
Likewise, Dil Bahadur Gharti, Chairman of the State Affairs Committee under the Legislature-Parliament emphasized the need for the commission to formulate a new action plan to keep up with the people's faith in civil administration.
On the part of concerned authority, Chairman of the commission Umesh Prasad Mainali asserted the Commission's commitment for the selection of qualified persons for civil services in an impartial and systematic way.
On the occasion, President Bhandari unveiled a new emblem of the PSC. Also, she honoured civil servants- supervisor Mani Ratna Brajacharya, first class non-gazetted officer Kalyani Singh and office assistant Sher Bahadur Chaudhary for their outstanding performance on duty.
Established on June 15, 1951, PSC has its regional offices each in five development regions and offices across nine zones with its headquarters in Kathmandu. RSS