Dhurmus-Suntali Foundation gets aid from Japan
June 15, 2016 | 9:53 pm&nbsp&nbsp&nbsp&nbsp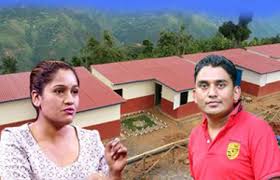 Japan / June 15: The Dhurmus-Suntali Foundation, a charitable organization working in the post-quake reconstruction drive, has been receiving financial aid from various quarters including Japan, both at personal and organisational level.
Comedy artists Sitaram Kattel 'Dhurmus' and Kunjana Ghimire 'Suntali' set up the organization in the aftermath of the Gorkha Earthquake and have been building integrated model houses in various quake-stricken districts.
The duo are currently keeping busy in building model houses at Giranchaur in Sindhupalchowk district which has collected more than Rs 780,185 as of Tuesday, the biggest amount collected so far for the same.
The amount was sent by Nepalese entrepreneur in Japan Nara Bahadur Thapa and through the 'We for All' organization, shared Shiva Kumar Tandukar, Coordinator of the Integrated Model Residence Contribution Campaign.
Since the financial aid from various organizations has been pouring in for the Campaign, the deadline for the Campaign has been extended to coming Friday, according to Coordinator Tandukar. RSS