SLC Exams Result out; Letter grading system in SCL 'blessing' for many students
June 16, 2016 | 10:03 pm&nbsp&nbsp&nbsp&nbsp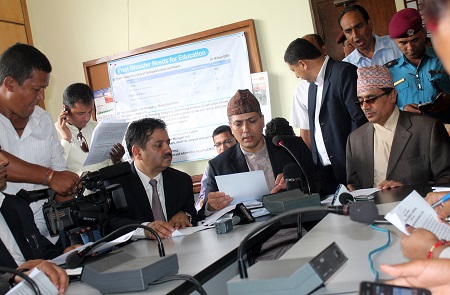 Bhaktapur / June 16: The Office of the Controller of Examination, Sanothimi, today has announced the results of School Leaving Certificate (SLC) exams held earlier this year.
This is the first time in its 82 years of history the Office has published the SLC results on letter grading system.
A total of 16,454 regular students have passed the exams with 'A+'(from 90 to 100 per cent ) grade point while 41,577 students have been passed in 'A' grade (from 70 to 90 per cent).
Similarly, students securing 70 to 80 percent are ranked as 'B+' grade and their number is 48,611.
The results are published on different nine grades from 'A+' to 'E'. Under the regular examinations, 11 students have passed with 'E' grade.
Likewise, in exempted category, four students have obtained "A+', 94 secured 'B+', 2943 are passed in 'B' grade. The results are available on the internet.
A total of 58,8152 students had appeared in the examinations, the Office said.
The letter grading system alike of the past adopted in the results of SLC examinations from this year has proved a 'blessing' for many students.
In its history of 82 years, the Office of Controller of Examinations, Sanothimi published the SLC results on a grading system and no students have failed.
Educationist Dr Mana Prasad Wagle views that the new system opted in the SLC results failed to measure the competency of students well. This progress is just for a show-off but not in real sense, he claimed.
With the adoption of this system, no criticisms were heard that quality of education was degrading or teachers' were not doing their duty properly.
If the old percentage-based system was in the practice, many SLC examinees would have been deprived of pursuing further education. For example, this time 8,000 students have passed in 'D' grade and it means they have secured 20-30 marks and the pass mark was 32 in the old system. Likewise, 56,763 students ranked as 'D+' grade holders and have secured 30 -40 marks.
The grade system in the SLC results becomes an easy means for the government to show its progress in education, educationist Dr Bidhyanath Koirala said. However, for students who have passed with 'D' (20-30) and 'E' grades (10-20 marks), will find it difficult to get admission to higher level education.
However, educationist Dr Baburam Adhikari termed the letter grading system in the SLC examinations as a positive move and was view of making correction of it weaknesses. RSS