President Bhandari observes swimming championship
June 17, 2016 | 9:25 pm&nbsp&nbsp&nbsp&nbsp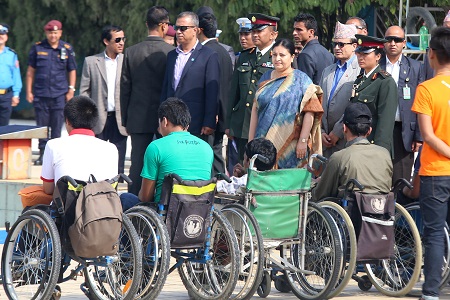 Kathmandu / June 17: President Bidya Devi Bhandari observed the Fourth National Disabled Swimming Championship with keen interest today.
The Championship started here today with the objective of raising public awareness on sports for people with disabilities.
The President stayed throughout the competition motivating the players. The President was accompanied by high officials.
Altogether 35 differently-able persons participated in the championship organised by Nepal Spinal Chord Injury Sports Association at the Nepal Sports Council international swimming pool at Satdobato, Lalitpur today.
The swimming competition was held between completely blind women and men, and the wheelchair users. The distance of the swimming contest was 25 metres.
Jimawati Lamkolia clinched first position in the competition held under the blind women's group. She clocked 53 seconds while Ayusha Chhetri came out second and Dhana Darlami third.
In the men's group, Rakesh Sharma stood first clocking 20 seconds while Suman Ghimire came out second and Gokarna Neupane third.
Likewise, in the women wheel chair users' group, Nirmala Karki clinched first berth completing the swimming dash in 40 seconds while Jenisha Kadayat stood second and Rajani Rai third. In the men wheelchair users' group, Ramesh Khatri stood first clocking 23 seconds while Ram Bahadur Tamang Gole came out second and Deepak Tamang third.
Apart from the participants, disabled people in large numbers attended the competition. The Association, established 13 years back, has achieved successes in the nationala nd international competitions.
President Bhandari handed out medals and certificates to the winners of the competition.
A recreational water polo game was also held on the occasion.
Speaking at the programme, Association president Laxmi Kunwar said the differently-abled people have shown a powerful example that they too can do something for the country and society, calling on the State to pay attention to the development of sports for the differently-able people. RSS