IRLC directs DoFE not to renew licenses of cheater manpower agencies
June 17, 2016 | 9:25 pm&nbsp&nbsp&nbsp&nbsp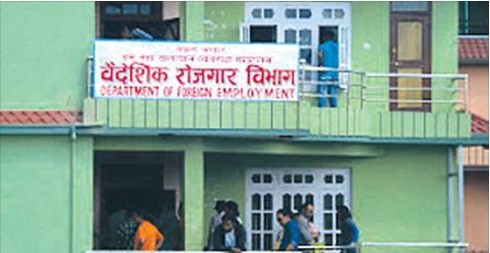 Kiran Bhattarai (Kathmandu) / June 17: The meeting of the International Relations and Labour Committee (IRLC) of the Legislature Parliament today directed the Ministry of Labour and Employment and the Department of Foreign Employment (DoFE) to keep details of and take action against those manpower agencies accused of cheating on foreign employment aspirants and migrant workers through various ways.
The committee meeting also directed the concerned authority not to renew licenses of the manpower agencies in question after formulating clear policy and standards for regulating such manpower agencies.
Numerous complaints have been lodged with the DoFE against many manpower agencies including Maharajgunj-based R&R Job Tanker Manpower, Gaushala-based The River Overseas, Bakhundol-based Paradise International Private Limited, Siddhartha Gautam Overseas Service, Green Star Overseas, Kapil Manpower, Capital Recruitment Service, Ekka Overseas Employment Consultant, Mithila Manpower Service, Aarakshan International and Lakky HR Solution.
Other manpower agencies which have received complaints are Bhandari Overseas, Shikhar International Manpower Services, RK Manpower Group, Pathivara Overseas and Life International Overseas, Bheri Karnali International Private Limited, Montej Overseas, Sigma International, Karavan Employment Service, Universal International, NCF Employment Service and Trust Nepal Overseas. The manpower companies accused of fleecing migrant workers and foreign employment aspirants are based in Kathmandu valley.
The complaints range that migrant workers have been overcharged and deprived of salary and facilities agreed upon beforehand.
Meanwhile on the part of concerned authority, police said that efforts were on to take action against those manpower companies found to be fleecing foreign job aspirants.
Likewise, law officer of the DoFE Gobinda Prasad Upadhyay said that the office receives around 100 complaints related to foreign employment frauds on a daily basis.
He added that they would initiate the process to take action against the perpetrators and compensate the victims once it receives a complaint. RSS