Govt under directive for provision to channel remittance through banking
June 17, 2016 | 9:25 pm&nbsp&nbsp&nbsp&nbsp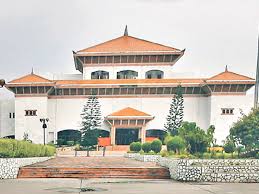 Kathmandu / June 17: The government and the Ministry of Labour and Employment are under instructions for adjusting a provision to adopt the banking system to remit the money earned by Nepali migrant workers when reaching labour agreements with foreign destination countries or renewing such agreements.
The International Relations and Labour Committee under the Legislature-Parliament today directed the government, Finance Ministry and Nepal Rastra Bank (NRB) for introducing a policy for government's mandatory payment of related commission and necessary fees charged when Nepali migrant workers remit money to Nepal through the banking channel.
The directive also calls for stringent measures against organizations or individuals found to be involved in brining remittance money through illegal channel known as the 'Hundi service'.
The Committee has asked for coordination and cooperation between NRB, Revenue Investigation Department, Money Laundering Investigation Department and Nepal Police's Central Investigation Bureau to end such illegal transaction.
The Committee has also pressed for withholding the renewal of permit letters for manpower companies that have not complied with the decision taken two years ago demanding submission of details related to its work and activities.
Committee's attention drawn towards ministers' absence
The lawmakers also aired their reservations towards the conspicuous absence of Finance Minister, Bishu Prasad Poudel, Labour Minister, Deepak Bohara and the Labour Ministry's Secretary although they had been invited to attend the meeting.
However, the joint secretaries of both the ministries were present on the occasion. RSS