Pittsburgh couple catch dining room ceiling collapse on camera
June 18, 2016 | 2:05 pm&nbsp&nbsp&nbsp&nbsp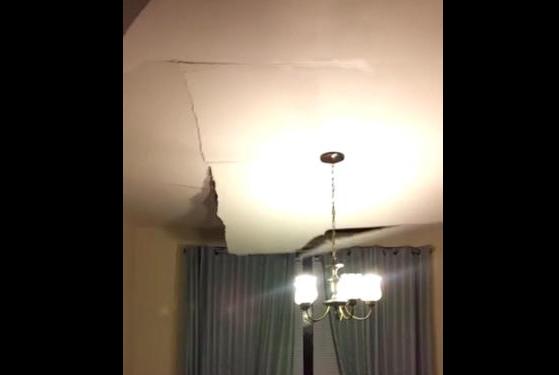 June 17: A Pittsburgh couple captured the moment a "little crack" in their dining room ceiling turned into a full-scale collapse while they filmed.
The video shows the ceiling crack slowly growing and making creaking sounds while the couple debates whether they should try to rescue more items from the room before the ceiling collapses on top of their possessions.
The husband suggests causing the ceiling to collapse on purpose to prevent it from falling out of control, but the uncooperative ceiling then falls, leaving the beams between the floors of the home exposed.
"My husband and I had been keeping an eye on this little crack we've had in our dining room since we moved in (we rent/still live there) we reached out to our landlord and he was actually coming over the NEXT day to start replacing it," the wife wrote online. "We were sitting in the living room watching a movie when we heard a cracking/popping noise… we knew it had to be the ceiling. So we get most of the stuff our, table, chairs, centerpiece, etc) then just stood back and waited. My husband knew is was sheet rock so it was going to be heavy and we didn't know if the chandelier was going to come down with it….so we just waited. He wanted to get in there (as you heard) but it was too dangerous." UPI.com