Bagmati cleaning with public awareness campaign continues
June 18, 2016 | 7:32 pm&nbsp&nbsp&nbsp&nbsp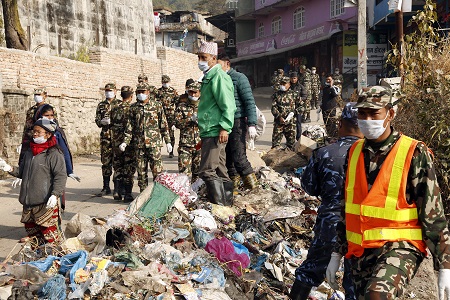 Kathmandu / June 18: Over eight metric tons of waste has been taken out and managed from Thapathali and Kupandole area of the Bagmati River on the 162nd weeks of Bagmati Cleaning greater campaign today.
Alongside Bagmati cleaning drive, public awareness campaign has also been put in place to ask people in the surrounding not to throw garbage into the Bagmati, inform municipality office for action if such happens and participate in the Bagmati clean-up campaign, said Powerful Bagmati Civilization Integrated Development Committee Member Narayan Shrestha.
The Bagmati cleaning followed by public awareness campaign was attended by the representatives from Nepal Army, Nepal Police, Armed Police Force, Powerful Bagmati Committee, Nepal Advertisement Association, Yes Travels and Uprety Society, among 0thers.
As many as 600 people including former Secretary Kishor Thapa took part in the campaign. RSS