Parliament regulations finally endorsed
June 19, 2016 | 7:22 pm&nbsp&nbsp&nbsp&nbsp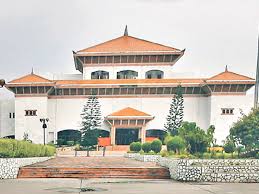 Kathmandu / June 19: The parliamentary regulations were finally endorsed with a decision to have a 15-member parliamentary hearing committee.
The meeting of the Legislature-Parliament today endorsed the draft of the Legislature-Parliament Regulations 2073 through voice vote. Chairperson of the regulations drafting committee Radheshyam Adhikari had tabled a proposal at the meeting seeking tabling of the regulations.
The main opposition Nepali Congress was in favour of 75 members in the hearing committee as per old structure while the CPN (UML) and CPN Maoist Centre had stressed that there should be only 15 members in the committee as per the new constitution.
The consensus was reached after the Nepali Congress withdrew Sub-rule 2 of Rule 194 of the draft. The proposal on the same by Ananda Prasad Dhungana of NC was unanimously endorsed by the meeting.
Likewise, the meeting today approved with a majority the amendment in Rule 194(2) of the draft while rejecting amendment proposals from Hari Charan Shaha, Ram Kumar Rai, Prem Suwal and Anuradha Thapa.
The regulations drafting committee was constituted on October 12, 2015. But it took almost nine months for the draft to be approved by the house as a result of differences between the ruling and opposition parties.
At the meeting, Speaker Onsari Gharti read out members of the newly formed parliamentary hearing committee. The members of the committee are Anita Kumari Pariyar, Asta Laxmi Shakya, Ananda Prasad Dhungana, Kul Bahadur Gurung, Ganesh Man Gurung, Chinkaji Shrestha, Chitra Lekha Yadav, Dharmanath Prasad Shaha, Dr Prakash Sharan Mahat, Bal Krishna Khand, Bhanu Bhakta Dhakal, Yogendra Chaudhary, Hitraj Pandey and Sayendra Wantawa. The 15th member would be nominated later.
The Legislature-Parliament shall meet next at 11:00 am on coming Monday. RSS