36 fake doctors made public (With List)
June 19, 2016 | 10:14 pm&nbsp&nbsp&nbsp&nbsp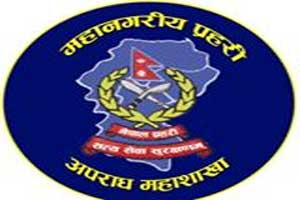 Kathmandu, June 19: In a major round up of bogus doctors, police made public 36 doctors possessing fake academic certificates, amid a press conference in the Capital on Sunday. They were arrested from various 10 districts Friday.
In the conference, the Central Investigation Bureau (CIB) of Nepal Police said 13 were arrested from Kathmandu, nine from Parsa, three from Morang, three from Chitwan and two from Lalitpur.
Likewise, two were arrested from Dhanusa, one each from Jhapa, Sunsari, Kaski and Dang.
The arrest was made following an investigation into the academic certificates of the fake doctors by a joint team of CIB, Nepal Medical Council and the Higher Secondary Education Board.
It was found during the investigation that the doctors with fake academic certificates were working in different hospitals and clinics.
The CIB said that investigation into the case had been initiated after the Kathmandu District Court extended custody date for the arrested fake doctors under fraudulent case.
Earlier, the CIB had arrested at least two dozen bogus doctors from various districts.
Information about the three dozens of quacks is given below:
S. N.
Name
 Home District
 Arrested from 
 1
 Sunil Acharya
Gorkha
Pragati Polyclinics, Chitwan
 2
Mohammad Abul Kalam
Manour, Siraha
Trauma Hospital, Biratnagar, Morang
 3
Ishadul Haq
Birgunj, Parsa
National Medical College and Teaching Hospital
 4
Saroj Kumar Singh
–
Parsa
5
Rajani Agrawal
 Dharan, Sunsari
Medical College (Old), Chitwan
6
Poonam Karna
Bathnaha, Mahottari
Jharana Pharmacy, Kapan, Kathmandu
7
Buddhiman Shrestha
Kuwakot, Syangja
Kantipur General and Dental Hospital, Samakhusi, Kathmandu
8
Lily Rajbanshi
Charpane VDC-3, Jhapa
Tilganga Eye Hospital, Kathmandu
9
Binita Adhikari
Lainchaur. Kathmandu
Bright Smile Dental Clinic
10
Rawet Ranjan Kumar Thakur
Pipara-3, Mahottari
Society Dental Clinic,
11
Gajananda Prasad Bhandari
Battisputali, Kathmandu
Nepal Family Planning Association , Lalitpur
12
Santosh Kumar Jha
Sapahi, Dhanusha
Trauma Centre
13
Ganesh Shah
Janakpur, Dhanusha
Lokhit Dental Hospital, Tripureshowar, Kathmandu
14
Nilima Khadka Mahat
Dhanusha
AMDA Nepali, Jorpati, Healthy Dental Clinic, Kathmandu
15
Binita Manandhar
Sarpallo-2, Mahottari
Resa Pharma, Chabahil, Kathmandu
16
Rahil Faj Ansari
Siddarthanagar, Rupandehi
Tanahu Sewa Hospital, Tanahu
17
Ram Ghimire
Dadhikot, Bhaktapur
Sahayatra Hospital, Bhaktapur
18
Kushraj Giri
Bagali, Parsa
Shanti Clinic, Birgung
 19
Pannalal Prasad Patel
Bhawanipur, Parsa
Gandak Hospital, Birgunj
20
Maheshowar Raya Yadav
Basantapur, Sarlahi
Marie Stopes Centre, Pokhara
21
Nimesh Paal Raman
Sakuawa, Rautahat
National Medical College, Birgunj
22
Mohammad Ruhulla
Tejapakad, Rautahat
National Medical College, Birgunj
23
Randhir Rajbanshi
Anarmani, Jhapa
Bajarang Clinic, Jhapa
24
Rabindra Kumar Pandey
Pipara, Mahottari
Care Nursing Home, Janakpur
25
Ramji Yadav
Sinurjoda, Dhanusha
Puja Medical Hall
26
Ram Kumar Pradhan
Kalaiya, Bara
National Medical College and Teaching Hospital
27
Bishnu Prasad Bhusal
Tulsipur, Dang
BR Dental Clinic, Tulsipur, Dang
28
Arun Kumar Gupta
Birgunj, Parsa
Norvic Hospital, Thapathali and B and B Hospital, Gwarko, Kathmandu
29
Sanjay Kumar Das
Kalabanjar, Siraha
Ram Diagnostic Clinic, Biratnagar
30
Dinesh Kumar Shah
Birgunj
College Medical Science, Bharatpur, Chitwan
31
Manish Aryal
Biratnagar, Morang
FPAN, Sunsari
32
Rajan Puri
Sonbarsha, Parsa
Chitwan Medical College
33
 Javed Akhtar Ansari
Bihar, India
Life Guard Hospital, Bargacchi, Biratnagar, Morang
Complete information on remaining three is awaited. RSS