Livelihood programmes and reconstruction should go side by side: Minister Pande
June 21, 2016 | 10:37 pm&nbsp&nbsp&nbsp&nbsp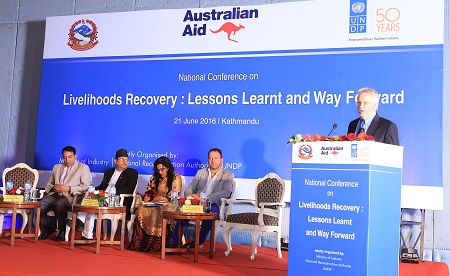 Kathmandu / June 21: Minister for Industry Som Prasad Pande has said the reconstruction activities and the livelihood programmes should go side by side in order to bring change in the lives of the earthquake-affected people.
Inaugurating a conference on 'Livelihoods Recovery: Lessons Learnt and Way Forward' organized jointly by the National Reconstruction Authority (NRA) and the UNDP with the assistance of the Australian government here Tuesday, Minister Pande said the government was serious to speed up recovery of livelihoods for the people affected by the last year's earthquake and urged the NRA to make its performance more visible on the ground.
Similarly, Chief Executive Officer of the NRA, Sushil Gyawali, said there was huge potential for employment creation in the construction industry and the NRA has a target to create at least 25,000 masons and skilled workers in three months.
Australian Ambassador to Nepal Glenn White said livelihoods recovery is as important as reconstruction and added, "Rebuilding houses is important. Livelihoods Recovery is more important as it helps families to make decision about their priorities whether they want to build house or send children to school or grow the business."
Moreover, UNDP Country Director Renaud Meyer said reconstruction should not only focus on buildings but rebuilding their lives and livelihoods. He added that Rapid Enterprises and Livelihoods Recovery Project (RELRP) supported by Australian Government has supported 14,000 micro entrepreneurs to revive their enterprises and livelihoods.
"UNDP's Community Infrastructure and Livelihoods Recovery Project has supported 20,000 households through the reconstruction of 81 vital community infrastructures like irrigation canals, cooperative buildings, drinking water and agricultural facilities," he informed. RSS