Banks and financial institutions related bill sent back to committee
June 21, 2016 | 10:36 pm&nbsp&nbsp&nbsp&nbsp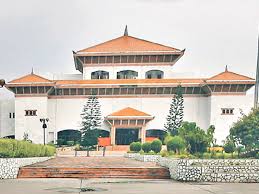 Kathmandu / June 21: The Legislature-Parliament has finally decided to send a bill related to bank and financial institutions – 2072 BS back to the Finance Committee, following intense protests from within the bodies concerned.
In today's meeting of the Legislature-Parliament, Finance Minister Bishnu Prasad Poudel tabled the proposal seeking an approval to send the bill back to the Committee for reconsideration. The Committee was criticized for preparing the bill without holding 'enough discussions' within the committee and 'at the interest' of a few people concerned.
Likewise, the meeting endorsed the proposal tabled in the meeting, seeking deliberations on the Public Procurement (First Amendment) Bill- 2072 BS. Minister for Law, Justice and Federal Affairs Agni Prasad Kharel tabled the proposal on behalf of Prime Minister KP Sharma Oli.
Similarly, Minister Kharel presented the 'Judicial Council Bill-2073 BS', before the meeting. Likewise, a proposal tabled by Minister for Forest and Soil Conservation Agni Prasad Sapkota, seeking consideration on the 'Forest (Second Amendment) Bill- 2071 BS' was approved by the meeting.
Deliberations on the Appropriation Bill-2073 BS are underway in the meeting. RSS