TMLP general convention endorses party's amended statute
June 22, 2016 | 10:22 am&nbsp&nbsp&nbsp&nbsp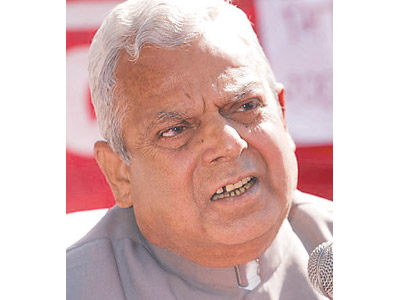 Purushottam Subedi/ Birdohi Giri (Nawalparasi) / June 22: The first general convention of Tarai Madhes Loktantrik Party (TMLP) going on in Nawalparasai has endorsed the party's amended statute. The document was passed by the convention's closed session.
Endorsement of the revised statute has paved the way for party to choose a new leadership. The closed session is underway on the premises of the district headquarters ( Parasi)-based Adarsha Higher Secondary School.
The political instrument introduced into the closed session mentions 'agitation' as the sole means of getting the demands of Madhes addressed. " The political document presented in the closed session states that three major political parties should take up the responsibility for addressing the demand for two provinces in Terai and resolving problems seen there through amendments to the constitution," TMLP central member Bikesh Kumar Mishra said.
The closed session reviewed party's fresh Madhes agitation and discussed its future plans, course of action and issues relating to organisational structure. The general convention is scheduled to go for the election of a new leadership with endorsing the political document this afternoon itself.
Thirty three members for a new leadership are to be directly elected by the general convention while the elections for 16 members from reserved quotas are also afoot. There will be one chair, one senior vice chair, one vice chair, three general secretaries, one treasurer and one co-treasurer in a new leadership. The party is adopting a direct electoral system to choose a 49-member body in a new central working committee which will have altogether 75 members and remaining members will be picked up through nominations.
A total of 1,500 representatives and observers are taking part in the general convention. Security in the district has been beefed up in view of the ongoing TMLP national gathering.RSS