TIA immerses in tears as coffins of 12 Nepalis killed in Kabul attack roll out of chartered plane
June 22, 2016 | 10:16 pm&nbsp&nbsp&nbsp&nbsp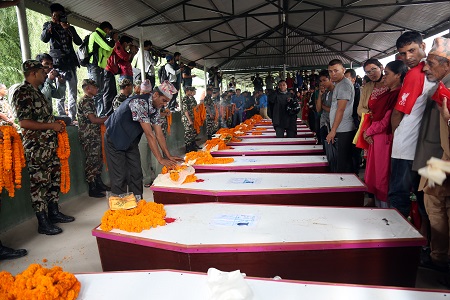 Bhisma Raj Ojha (Kathmandu) / June 22: An atmosphere of poignancy descended as a charted plane of Nepal Airlines landed in the Tribhuvan International Airport at 2:40 pm today as it brought home the dead bodies of 12 slain Nepali workers from Kabul, Afghanistan.
Not only the families and kin of the 12 Nepalis killed in a suicide bombing in Kabul, Afghanistan on June 20 were awash with tears, but the media persons, security officials, government officials as well as well wishers in sizeable numbers reaching the airport long before the arrival of the plane were too moved to tears.
The deceased were among the 147 Nepalis working as the security guard in the Canadian Embassy in Afghanistan, the youngest country in the SAARC region.
They were recruited by a British firm – Sabre International – for the same, shared Bir Bahadur Khatri, who is one among the 24 Nepali workers to return home at their will in the same chartered plane.
The corpses were handed over to the respective families after floral offerings and tribute were paid to the dead bodies, according Yadav Prasad Koirala, Speaker of the Ministry of Home Affairs, adding that arrangement is made to send the dead bodies to the respective districts as per the will of the bereaved families.
Although the mortuary vans were also on standby for the same considering the adverse weather, the dead bodies were airlifted to the hometown of the deceased ones, said Spokesperson Koirala.
He added that the deceased's luggage brought along their bodies will be handed over to the families of the deceased after identifying them.
Of the 12 slain Nepalis, the final rites of four is learnt to be performed in Kathmandu whereas the rest of them will be cremated in their own hometowns.
Similarly, of the seven Nepalis hurt in the incident, five are receiving treatment in New Delhi, India and two in Kabul itself, according to Ministry of Home Affairs.
The 24 Nepali returnees, who instantly and effortlessly hogged the limelight among the media persons and others as they landed, seemed mentally undone.
Returnee Khatri confided that many, including him, were in awe and agony of losing 12 fellow Nepalese in the carnage that altogether claimed 14 lives, including two Indians of Nepali-origin.
Khatri commented that the British recruitment firm – Sabre International – had paid less attention towards the security arrangement of the employees and their duty stations compared to other recruiting companies.
The NA plane has not only brought home the dead bodies but also a pall of despair that is engulfing the country. RSS