Will Naya Shakti become a force to reckon with? (Commentary)
June 22, 2016 | 10:15 pm&nbsp&nbsp&nbsp&nbsp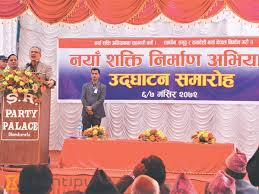 Pritam Bhattarai / Kathmandu: Visibly encouraged by his party's sweeping victory in the erstwhile first Constituent Assembly (CA) elections, then UCPN (Maoist) Chairman Pushpa Kamal Dahal made a proclamation of turning Nepal into the 'Switzerland of Asia'. Dahal-led government and his party also envisioned ending load-shedding in three years and generating 10,000 MW, 20,000 MW and 25, 000 MW in the next 10, 20 and 40 years respectively.
The Maoist party continues to be at the helm of power since then, but the country continues to face at least 14 hours of power cut a day while the country is lagging behind in economic development.
Eight years after the Maoist party first came to power following the signing of the 2006 peace accord that ended the Maoist decade-long conflict, Dr Baburam Bhattarai, former leader of the same Maoist party, has come out with a baggage full of promises in a bid to change the face of the undeveloped country. And, he is now with the much touted Naya Shakti Nepal (New Force Nepal), recently announced to become a political party with a focus on the economic agenda.
One of the biggest promises he has made is to make Nepal a prosperous developed country in 25 years. Other pledges are to eliminate poverty and unemployment in seven years.
Dr Bhattarai's Naya Shakti has become the talk of the town at present for partly its glamorous entry and switching to modern form of digital technology for its publicity. On the one hand, it has drawn attention of all either in the form of criticism or support. It has, to some extent, become successful to appeal to people with its charming promises. While at the same time, many people doubt whether this party like other political parties would only sell promises but do nothing to keep their words once they are at the helm of power.
The reality is the latter given the trend of Nepali politics. In general, our political leaders make towering promises to woo the general people only for their personal advantages or woo voters in times of elections, but never keep them.
For example, the lately-emerged Maoist party and Madhes-based political parties are facing backlash and criticism from general people for failing to keep what they promised to them before holding power. As a result of this, the parties have split many times while failing to win support of their voters. As for them, failing to fare well in the former second CA elections may be the result of their losing faith of their voters. It may be noted that the Maoist and Madhes-based political parties won many seats in the first CA elections but lost them significantly in the second CA polls.
And as in case of Naya Shakti, people are sceptical whether it will follow suit. And there are many ways that support people's doubt about the Naya Shakti. Its coordinator Dr Bhattarai is a product of the ideology of the same Maoist party that split many times while some of its other party leaders and cadres are those that ended up joining the party after having tested the flavor of other political parties. A matter to point is that failure of the newly born party to form its central committee, by the gathering held in the Capital recently to announce Naya Shakti a political party. Wrangling over positions among party leaders is already an ominous sign.
However, time will test all. To develop and make a country prosperous is not impossible with visionary leadership, stable politics and foreign policy and infrastructure development. And on that understanding, Dr Bhattarai's promises are more or less practical. In this regard, South Korea can be an example that strode in terms of economic development in just over 60 years. After the Korean War in 1950's, South Korea was one of the world's poorest countries with only $64 per capital income. The time was when many countries were on the path to economy development following economy devastation by the Second World War. Now Korea is one of the world's largest economics with it becoming the fourth largest economy in Asia and the 11th largest in the world, with a per capita income of $ 28,180 in 2014.
South Korea's rigorous education system and the establishment of a highly motivated and educated populace are largely responsible for the encouraging country's high technology growth and rapid economic development. Likewise, adoption of an outward-looking strategy in the early 1960's also contributed to rapid industrialization. The strategy promoted economic growth through labour-intensive manufactured exports.
Coming back to Nepal, resolving the existing political problems facing the country comes first when it comes to implementing the infant constitution and political stability, which serve as a gateway to the development of the nation. The recent political scenario is that the protesting Federal Alliance including Madhes-based political parties are pig-headed on their demands while the government is rigid on its stance without both of them trying to find a common ground, thus protracting the problems.
And on sorting out such problems, Dr Bhattarai and his newly formed party seems to be silent. Political instability remains one of the biggest hurdles to the development of Nepal. Without doing so first, Dr Bhattarai's roads to translate his promises into reality may not open. RSS