Government to provide one million each to Kabul bombing victims
June 24, 2016 | 12:26 am&nbsp&nbsp&nbsp&nbsp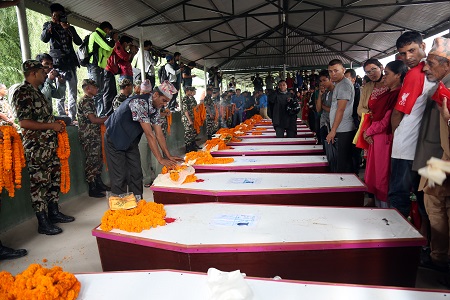 Kathmandu / June 23: The government has decided to provide compensation of one million rupees each to the families of the 13 Nepalis killed in the Kabul bombing carried out last Monday.
A meeting of the Council of Ministers held this evening decided this, according to Government Spokesperson and Minister for Information and Communications Sherdhan Rai.
The Council of Ministers condemned the terrorist attack on the Nepalis serving as security guards for a Canadian Embassy in Kabul and extended heartfelt condolences to the bereaved families, passing a condolence motion over the tragic demise.
The government brought the dead bodies back home by a chartered aircraft of Nepal Airlines Corporation Wednesday and handed them to the families concerned.
The meeting, wishing for speedy recovery of those injured in the explosion, decided to make arrangements for their free medical treatment.
The meeting also decided to ban providing labour permit to Afghanistan immediately, guaranteeing security to the Nepalis in Afghanistan by holding diplomatic talks with the Afghan government and providing necessary support to those Nepalis in Afghanistan and willing to return back home.
Minister Rai said that the government decided to completely ban Nepalis from going to Libya, Iraq, and Syria for overseas employment.
The meeting directed the Ministry of Labour and Employment to submit a report after carrying out detailed study of all aspects of the incident.
Similarly, the government has appointed Maha Prasad Adhikary as executive chief of Nepal Investment Board for a four-year term. It also decided to mint 2,000 pieces of 12-gram silver commemorative coins of Rs 1,000 denomination and 4,000 pieces of 8.5-gram of cupronickel coins of Rs 100 denomination on the occasion of the Golden Jubilee of Nepal Philatelic Society.
The government also decided to cancel the citizenship of Indian national, Ashish Chatarji and Mohan Pandey as they found submitting fake documents in course of acquiring Nepali citizenship from Banke and the District Administration Office in Parsa respectively as well as to take immediate action against the officials providing citizenship certificate to them after carrying out investigation. RSS