'Healthy Food and Nutrition' fair kicks off
June 24, 2016 | 9:17 pm&nbsp&nbsp&nbsp&nbsp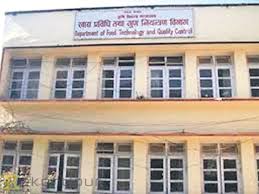 Kathmandu / June 24: Two-day fair on healthy food and nutrition has begun for the first time in the country at Bhrikutimandap in the Capital from Friday.
Inaugurating the fair, Minister for Agricultural Development Haribol Gajurel said that bringing improvement in food habit is crucial to improving health.
A total of 78 stalls of different food items have been kept in the fair. It is organised by the Government of Nepal, the Department of Food Technology and Quality Control and Nepal Food Scientists and Technologists Association.
On the occasion, Director General at the Department of Food Technology and Quality Control, Sanjeev Kumar Karna, expressed the belief that the fair would further help in improving the eating habits of people, prompting people to opt for nutritious and fibre-rich food made from maize, potato, millet, among others, instead of junk and packed food.
Food Investigation Officer at the Department, Kamal Prasad Regmi, said that the fair is organised with an objective of creating public awareness regarding healthy food and nutrition while food expert Dr Aruna Upreti said situation of malnutrition is alarming in the country due to addiction to readymade foods due to the busy and modern life.
It is estimated that around 41 per cent children below five years and some 50 per cent women are suffering from malnutrition in the country.
Similarly, around 14 per cent women of elite families have been found suffering from obesity due to consumption of highly fatty food. RSS