NRA recommends Cabinet for providing fund for repair of semi quake-damaged houses
June 24, 2016 | 10:10 pm&nbsp&nbsp&nbsp&nbsp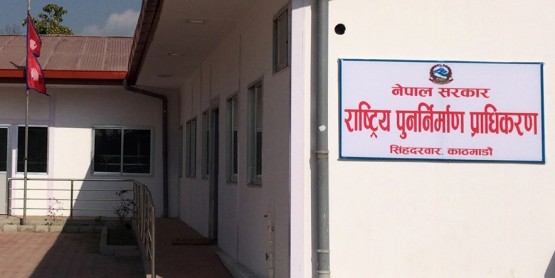 Kathmandu, June 24: The National Reconstruction Authority (NRA) has decided to recommend to the Council of Ministers for providing Rs 50 thousand for the repair, maintenance and retrofitting of the earthquake semi-damaged houses.
A meeting of the NRA's Steering Committee today made a decision to carry out the required amendment to the Private Houses Grant Procedures for the provision of this amount. The Procedures already has the provision of providing Rs 200 thousand for the completely-damaged houses that have to be pulled down and rebuilt.
Likewise, the meeting decided to develop model integrated and planned settlements by relocating the at-risk settlements, the NRA stated in a press release.
Moreover, the meeting decided to speed up the distribution of the grants by putting in place the mobile banking services. A decision has also been made to provide the house grants by ensuring that none of the house-owners who are eligible for the earthquake survivor grants are left out and those not falling under the parametre end up getting the grants.
The NRA also passed an action plan which mentions about providing training to at least 30 thousand masons at the village level within four months, forming the Reconstruction Community Committee at every village and settlement and providing technical support to the locals in the reconstruction works by establishing a resource centre each at every election constituency in the worst affected districts.
The meeting likewise took a decision to conclude the reconstruction of the Ranipokhari before the Bhaitika festival in November, to immediately start the survey works in the 17 earthquake-affected districts including the Kathmandu Valley and to provide Rs 200 thousand to the families to be affected by the Budhigandaki Hydroelectricity Project for construction of temporary houses.
It also decided to prepare the draft local five-year plan on reconstruction at the District Development Committee, Village Development Committee and the Municipality levels being based on the outline of the five-year national plan, and have it implemented. RSS