Lightning protection infrastructures stressed
June 25, 2016 | 12:51 pm&nbsp&nbsp&nbsp&nbsp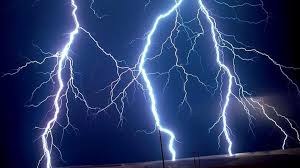 Kathmandu / June 25: The international conference on lightning has suggested to build physical infrastructures to be reconstructed after earthquake lightning protection.
Discussion regarding minimizing the damage caused to human life and property by lightning and ways to avoid it was held in the two-day conference concluded on Friday.
Scientists participated in the conference organised by the Lightning and Atmospheric Research Centre Nepal with support of Nepal Academy of Science and Technology suggested the people to stay inside in the house as lightning can strike during thunderstorm.
The conference also suggested the people not to climb on tree, not to enter in cave and swimming pool as well as not to use umbrella during the thunderstorm and it also stressed the need of launching public awareness programmes to be safe from the lightning.
A total of 13 working papers were presented in the conference where 40 scientists from Nepal, India, Sri Lanka and Malaysia had participated.
Chairman of the Lightning and Atmospheric Research Centre Nepal, Shreeram Sharma, stressed the need of carrying out study about lightning at different places of the country. RSS